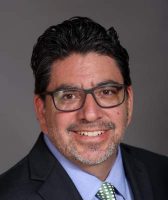 SANTA ANA OLIVE GARDEN GENERAL MANAGER RECEIVES NATIONAL RECOGNITION
Carlos Infantas Selected from 800+ Leaders to Receive Prestigious Status
SANTA ANA, Calif. – Carlos Infantas, General Manager of the Olive Garden in Santa Ana, has achieved parent company Darden Restaurants' Diamond Club status. He was recognized this year for his commitment to delivering guest experiences at the highest level, while making a difference in the lives of guests and team members, as well as in his community.
"When guests walk through the doors of the Santa Ana Olive Garden, they feel like part of our family thanks to leaders like Carlos," said Dave George, President of Olive Garden. "His passion for hospitality and creating a vibrant team member culture make him an incredible asset to both the Santa Ana community and Olive Garden family."
This year, Infantas joins an elite group of 42 General Managers selected from the more than 800 Olive Garden restaurants in North America, making this a truly exclusive honor. Infantas attributes his professional success to his management team, his team members and his Director of Operations.
The Santa Ana Olive Garden is located at 2800 N. Main St.
Olive Garden offers a variety of delicious Italian specialties for lunch, dinner or take out. Enjoy our freshly baked garlic breadsticks and your choice of homemade soup or salad with any entree.
Together, Olive Garden and Darden promote nearly 1,000 team members a year into management.
50% of all of our restaurant managers come from our hourly ranks;
and 99% of all our restaurant General Managers — are promoted from within.