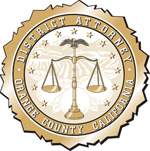 ORANGE COUNTY DISTRICT ATTORNEY PRESS RELEASE
Case # 15WF0292
Date: March 12, 2015
MAN TO BE ARRAIGNED FOR SEXUALLY ASSAULTING AND COMMITTING LEWD ACTS ON 2-YEAR-OLD GIRL
WESTMINSTER – A man is scheduled to be arraigned tomorrow for sexually assaulting a 2-year-old girl and committing lewd acts upon her. Joseph Michael Hishmeh, 21, Garden Grove, is charged with one felony count of sexual penetration with a child 10 years or younger, five felony counts of lewd acts upon a child under 14, and a sentencing enhancement allegation for committing substantial sexual conduct with a child. If convicted, Hishmeh faces a maximum sentence of 31 years to life in state prison. He is being held on $1 million bail and is scheduled to be arraigned tomorrow, Friday, March 13, 2015, at 10:00 a.m. in Department W-12, West Justice Center, Westminster.
Between April 30, 2014, and Sept. 1, 2014, Hishmeh is accused of committing lewd acts upon 2-year-old Jane Doe in his home by touching her breasts, vagina, and legs under her clothes with sexual intent. On one occasion, he is accused of digitally penetrating Jane Doe's vagina. The evidence was discovered during an investigation by the Federal Bureau of Investigation (FBI).
The FBI continued the investigation with the Orange County Child Exploitation Task Force (OCCETF). On Feb. 9, 2015, OCCETF investigators arrested Hishmeh at his home in Garden Grove.
OCCETF is comprised of members from U.S. Immigration and Customs Enforcement's Homeland Security Investigations; Orange County Sheriff's Department; FBI; United States Postal Inspection Service; and Newport Beach Police Department. OCCETF investigates Internet-related crimes against children and crimes involving the possession, production, and distribution of child pornography.
Deputy District Attorney Bobby Taghavi of the Sexual Assault Unit is prosecuting this case.
###
TONY RACKAUCKAS, District Attorney
Susan Kang Schroeder, Chief of Staff
Office: 714-347-8408
Cell: 714-292-2718