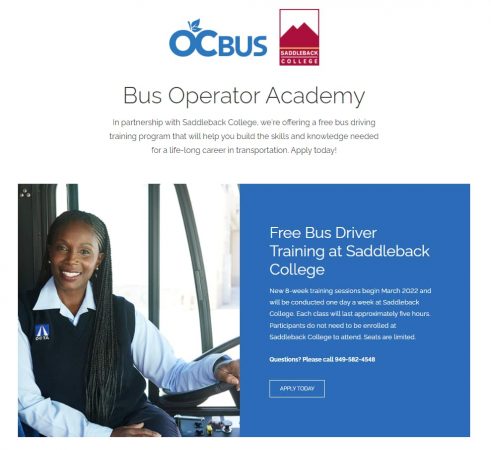 Next week, Saddleback College is ready to start cohort 5 of the Free Bus Operator Academy Training Program. Saddleback College and OCTA have partnered to develop career opportunities for underemployed, unemployed, and underrepresented OC residents. Saddleback College has been awarded a small grant from the OC Community Foundation to develop a Bus Operator Training Academy to create a skilled talent pipeline for OCTA. The grant pays for the cost of training so there is no cost to interested participants.
The starting wage has been increased to $20.48 per hour. You can learn more about this at this link.
The training for cohort #5 will begin on April 8, 2023. The training is an eight-week training program and will be held on Saturdays from 9:00 AM to 2:00 PM at the Saddleback College campus in Village 22-2 located in the "Village" Classrooms across from the football stadium. Click here for online college maps and directions.
Behind-The-Wheel training will occur from 2:00 – 5:00 PM in Parking Lot #1. Training participants may park in any open parking space except Parking Lot #1 as it is reserved for the Behind-The-Wheel training.
]Please refer to the below campus map to locate the classroom Village 22-2 and Parking Lot #1.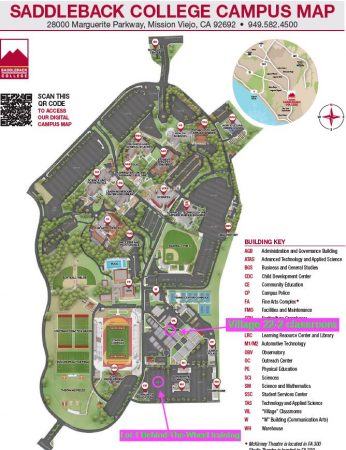 If you are interested in the Saddleback College Bus Operator Academy Training Program, please apply now at http://www.octa.net/About-OCTA/Bus-Operator-Academy/
For more information, please contact:
Jessie Cheng
Economic and Workforce Development Office | Saddleback College
28000 Marguerite Parkway, Mission Viejo, California 92692
949-582-4548
Jcheng64@saddleback.edu