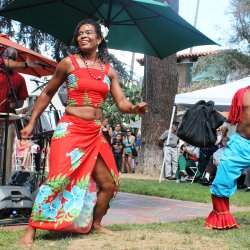 The Bowers Museum is hosting a free Caribbean Family Festival on Sunday, September 7, 2014, from 11 am – 4 pm, at the Margaret and Cleo Key Courtyard.  This event is sponsored by The Nicholas Endowment.
This event will include:
Face painting, Jelly Fish and Wood Fan art projects
Free frozen tropical fruit bars
The Caribbean Jems will wow the audience with their vibrant costumes and unique high energy dances. They will perform to popular Caribbean music played by Upstream.
Free admission to special exhibition Heavenly Hourses: Two Thousand Years of Chinese and Japanese Equine Art is offered on a first come, first served basis.
Free admission is also included to Bowers Museum permanent exhibitions, Kidseum and limited engagement exhibitions including: Sacred Realms: Temple Murals by Shashi Dhoj Tulachand; Spirits and Headhunters: Art of the Pacific Islands; California Legacies: Missions and Ranchos; Vision of the Shaman, Song of the Priest; California: The Golden Years; Ancient Arts of China, and Framed: Step into Art at Kidseum.
Free admission to Bowers Kidseum included. Kidseum hours: 10 AM – 4 PM.
For more information, contact 714.567.3600.