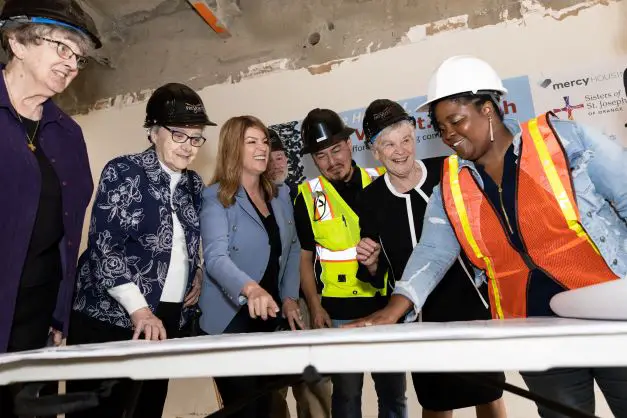 ORANGE, CA – Construction is underway for Villa St. Joseph, a new $37 million affordable housing community in Orange that will provide 50 high-quality, affordable apartment-style homes to seniors in the community. Nearly one-third of the new homes will be available for seniors in the region who have been impacted by homelessness.
Developed by affordable housing nonprofit Mercy Housing California (MHC) in partnership with the Sisters of St. Joseph of Orange, the new community will convert the former Sisters of St. Joseph Motherhouse, into a vibrant community with on-site supportive services, community rooms, and beautiful outdoor space with sitting areas, tables, and gardens for residents.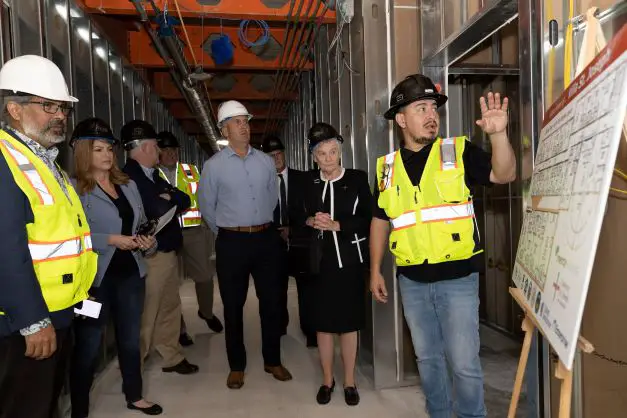 During a hard hat tour and briefing for civic leaders and project partners, the Sisters and project managers described the history of the building and explained how transforming the building into residential apartments for seniors will better serve its mission and help the local community.
"As Sisters of St. Joseph, we are called to reach out to serve the dear neighbor. We can think of no better way to help those in need today by offering a warm welcome, hospitality, and a home," said Sister Mary Beth Ingham, General Superior of the Sisters of St. Joseph of Orange.
"We are thrilled to honor our deep partnership with the Sisters of St. Joseph of Orange by transforming their historic Motherhouse into a thriving community of fifty homes in which seniors can age in health and dignity," said MHC Vice President of Real Estate Development Ed Holder.
Many public and private financial and community partners have come together to make Villa St. Joseph possible. UnitedHealth Group, the largest private investor, is providing $16.3 million in equity through a Low-Income Housing Tax Credit (LIHTC) partnership with Enterprise Housing Credits Investments, part of an initiative to connect people in need to housing and support services to help them live healthier lives.
"This investment underscores our long-standing commitment to increasing housing opportunities and support services nationwide to drive better health outcomes for seniors and underserved California communities," said Tami Adams, CEO, UnitedHealthcare of Southern California, part of UnitedHealth Group, which has invested more than $800 million since 2011 to build new affordable housing communities in more than 25 states, including nearly $70 million in California. "At UnitedHealth Group, we recognize that there is a strong connection between housing and health. If you don't have a safe place to call home, it can be difficult to feel secure or to manage your overall health and well-being."
"Enterprise is proud to support Mercy Housing and the Sisters of St. Joseph in their efforts to bring well-located affordable homes with support services for seniors in Orange County," said Scott Hoekman, President, Enterprise Housing Credit Investments. "We're especially grateful for our partnership with UnitedHealth Group to invest in Villa St. Joseph."
Additional financial partners include the State of California, which through the Department of Housing and Community Development (HCD) is providing $5.6 million in loans. The County of Orange is providing loans of $6.1 million from various sources, including HOME and Mental Health Services funds. The City of Orange is providing loans of $1.6 million of support. The Sisters of St. Joseph of Orange are providing a $5.7 million seller carry back loan and a 99-year lease for the property. Umpqua Bank is providing the construction loan.
Villa St. Joseph is expected to be completed in Summer 2024. It is located on the St. Joseph of Orange Center campus (corner of LaVeta & Batavia Streets), which includes the Sacred Heart Chapel, along with various ministry, spirituality, and educational buildings, and an auditorium. Originally constructed in 1958 as a convent and residences for the Sisters, the building discontinued permanent residential use in 2015.
The existing building structure is being reconfigured to include 50 residential units with 43 one-bedroom, 6 studios, and 1 two-bedroom staff unit. The current common areas will be remodeled and redesigned to include a new lobby, reception area, elevator lobby, mail room, restrooms, bike room, offices, and maintenance shop on the first floor. In addition to the new apartments on the second and third floors, there will also be a new community room with kitchen and outdoor terrace, and laundry, storage, and bike rooms. New ADA accessible entrances and parking are being constructed, along with a beautiful outdoor community space that includes a pergola, tables, benches, gardens, and bike racks.
Additionally, Mercy Housing is partnering with the County of Orange Health Care Agency's Adult and Older Adult Behavioral Health ("AOABH") agency to provide case management and service support for formerly homeless residents with the remaining 31 apartments made available for low-income seniors. Mercy Housing will also provide onsite property management and resident services for residential assistance, adult education, health and wellness programming, and resource linkage for residents.
"This new community will provide new, affordable housing for seniors in the region who need a helping hand," said City of Orange Mayor Dan Slater. "We are so thankful to the Sisters of St. Joseph, Mercy Housing, and all the partners involved in this important project for their continued commitment to people in need."
Mercy Housing California is the developer in collaboration with Sisters of St. Joseph of Orange. The general contractor is Prevost Construction and Mercy Housing will manage the property upon completion. The architect is Nineteen-Six Architects. Mercy Housing is directing people interested in living at Villa St. Joseph to call their general information line at (657) 822-0135 or at www.mercyhousing.org/california/.