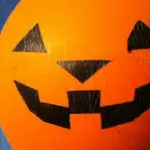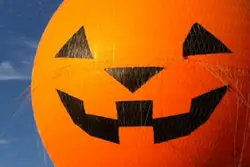 FOR IMMEDIATE RELEASE: OCTOBER 5, 2010
CONTACT: JENN STARNES, 949-724-6574
Flying Jack O'Lantern Signals Start of Fall Events at the Great Park
Season begins with Movie on the Lawn this Saturday
IRVINE – The Orange County Great Park Balloon has again been transformed into a giant flying Jack O'Lantern signaling the arrival of fall activities and family fun at the Great Park. Fall at the Great Park begins with a Movie on the Lawn featuring "Karate Kid" (2010) this Saturday, October 9th at 7:00 p.m.
In this remake of an '80s classic, 12-year old Dre Parker is facing a bully and has nowhere to turn but maintenance man Mr. Han, who is secretly a master of kung fu. As Han teaches Dre that kung fu is not about punches and parries, but maturity and calm, Dre realizes that facing down the bullies will be the fight of his life. "Karate Kid" (2010) is rated PG.
Admission and parking are free, and you can picnic on the Great Park lawn before the movie. Make sure to bring your lawn chairs and blankets, and warm clothing for the cool fall evening. The movie will begin at 7 p.m., weather permitting. Call the Great Park Visitors Center for updates before the show: (866) 829-3829.
Come back to the Great Park on Saturday, October 23rd from 10:00 a.m. to 3:00 p.m. to celebrate the harvest season at the third annual Great Park Pumpkin Harvest, the Orange County Great Park Halloween celebration and food drive benefitting the Orange County Food Bank and the Second Harvest Food Bank.
The Great Park is located off the 5 Freeway and Sand Canyon in Irvine. For more information, please visit www.ocgp.org.
###