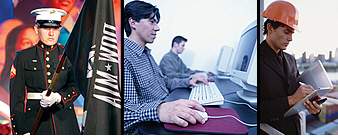 Congresswoman Loretta Sanchez, Representing California's 47th Congressional District
PRESS RELEASE, FOR IMMEDIATE RELEASE: September 28, 2012
MEDIA CONTACT: Adrienne Watson, 202-309-0825
SANCHEZ ANNOUNCES $250,000 GRANT TO SANTA ANA COLLEGE FOR VETERANS UPWARD BOUND PROGRAM
WASHINGTON, D.C. – Congresswoman Loretta Sanchez (CA-47) announced today that Santa Ana College has been awarded $250,000.00 in grant funds for the Veterans Upward Bound (VUB) program. The funds will help military veterans receive the skills they need to successfully continue their educations beyond a high school diploma or GED.
The VUB program aims to boost enrollment among veterans in post-secondary education programs including those offered by community colleges or universities. Services include mentoring, tutoring and academic instruction in the core subject areas. Getting veterans signed up is part of the equation. The main goal is to increase completion rates so that veterans gain the skills needed for long term success.
"I am so pleased Santa Ana College has received this grant to help our veterans succeed," said Sanchez. "This is the first ever Veterans Upward Bound program in Orange County. It is a tremendously successful program that I am excited to see implemented in our community. I thank Santa Ana College for its support of military veterans and I look forward to tracking the success of this program."
"Thanks to the establishment of additional funding by the U.S. Department of Education, SAC will enhance its veteran student outreach and support programs beginning this fall and for the next five years," said Dr. Erlinda Martinez, President of Santa Ana College. "SAC has recently relocated its Veteran's Resource Center to a highly visible location on campus and has identified community partners to assist current and future veteran students achieve their higher education dreams."
Congresswoman Loretta Sanchez is proud to represent California's 47th Congressional District, which includes the cities of Anaheim, Garden Grove, Santa Ana, and parts of Fullerton in Orange County. She serves as Ranking Member of the House Armed Services Subcommittee on Strategic Forces and a senior member of the Committee on Homeland Security. Rep. Sanchez is also a member of the fiscally conservative Blue Dog Coalition and sits on the bipartisan, bicameral Joint Economic Committee.
# # #
To be removed from this email list please reply with the word "Remove" in the subject line.
United States House of Representatives
1114 Longworth House Office Building • Washington, DC 20515
Phone: 202-225-2965 • Fax: 202-225-5859