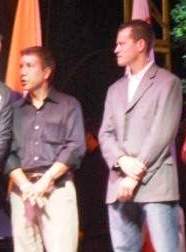 The OC Labor Federation says it's highly opposed to elected officials contracting-out city services to private companies. It's a top principle of theirs and for example drives the OC Employees Association's political campaign against the City of Costa Mesa's current city council.
But — the OC Labor Federation endorsed both Santa Ana Councilmember Benavides for Mayor and Councilmember Sarmiento for re-election. Hello — don't they know this Council has been privatizing like crazy!  Not just graffiti and landscaping services a couple of years ago, but this year alone they contracted out parking management services and street sweeping services. Hundreds of thousands of dollars and dozens of employees jobs given away to for-profit companies. This may not be all bad, but labor leaders claim it is.
This occurred to me because the city just mailed to residents (right before the election) a glossy newsletter featuring the councilmembers names – a fluff piece with an article about the contracting out. The article is the first one in the newsletter and starts with:
"Street Sweeping Has a New Look. The City of Santa Ana has contracted with Athena Services to provide citywide street sweeping services and Central Parking Systems, Inc. to provide parking enforcement services."
The article goes on and on about why privatization is a good thing for residents.
Again, this only shows why the labor federation staff of Teferi Gebre and Julio Perez are so off the mark. Perez is their political director and Gebre is his boss. They show time and time again they can't win big races, shoot straight or vet their candidates for bad votes before making endorsements.
When will the labor federation pull the endorsements of Benavides and Sarmiento? Did they lie directly about not contracting out or did they lie by omission?
Now the labor federation is doing a fundraiser for them this Friday. Are they going to use the campaign money to tell Republicans they helped balance the deficit by contracting out?
When are labor union members going to ask Gebre and Perez to resign? They are useless. It's time.