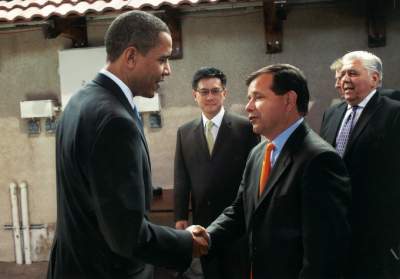 For Immediate Release: November 19, 2015
Contact: Jason Aula, 202-277-5737
Committee formed to organize campaign to recall Santa Ana mayor
(Santa, Ana) On Friday November 11th @ 4:20 PM the shot heard around the world in medical marijuana politics that is the time the Santa Ana City Clerk was presented the committee paperwork establishing "Committee to recall Mayor Miguel Pulido" in response to the pot wars being waged by Pulido against medical cannabis dispensaries by the committee's political campaign strategist Jason Aula.
In documents sent to the city, the Committee to Recall Mayor Miguel Pulido lists longtime Law Office of Matthew Pappas Paralegal Sergio Sandoval as the treasurer.
The press conference announcing the committee forming will be at Sky High Collective in Santa Ana Thursday November 19th @ 4:20 PM, details on contributing to the committee will be available at the press conference in a statement given by committee treasurer and Law office of Matthew Pappas paralegal Sergio Sandoval.
Aula said, "As the political campaign consultant I am declaring the formation of the committee is to simply recall Mayor Pulido for the medical marijuana patients he has abused and as a conservative political heavy weight in the region, I can't say I won't enjoy recalling a corrupt liberal that promotes "Mexico City style" politics. Moreover, Pulido has been a sitting Mayor for over two decades with many allegations of corruption and pay to play conditions that would make you think we were in Mexico, I know for a fact there are other liberals in Santa Ana that want Pulido gone so I am confident we can qualify a recall. For example, a viable candidate hypothetically like Councilwoman Michelle Martinez could possibly emerge. Do you think she forgot about what Pulido did to her when she ran for state assembly and mayor?
"The cost of the campaign to qualify the recall is $50,000 for 14,000 signatures. Signature gatherers would be paid $ 2-3 per valid signature based upon volume.
"An expeditionary campaign team been dispatched to organize Santa Ana City College to begin mobilizing students who live in Santa Ana. Organizers will empower the the homeless population and street people to register to vote. This is a campaign on all fronts of Santa Ana communities regardless of income we are reaching out to every registered voter in Santa Ana. We will be ordering PDI voter data and we will be going door to door registering voters regardless of party in preparation for possible recall beginning Thanksgiving weekend"
"We are going to get voters registered to vote in 60 seconds via the Chris Antonelli method, California Vote Project Committee voter registration project script, and campaign structure."
"My experience and expertise I gained working withing the California Vote Project under the consultant to the Speaker of the Assembly Member services, Christopher Antonelli has prepared me for this moment and I am forever grateful."