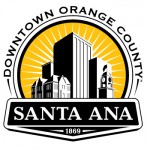 City of Santa Ana, Downtown Orange County
Community Alert: City of Santa Ana Receives Bond Credit Rating Upgrade
The private and independent credit rating firm, Fitch, has upgraded the City of Santa Ana's former redevelopment agency's 2011 tax allocation bonds to 'AA-'. A bond rating is a grade given to bonds indicating their credit quality based on evaluations of a bond issuer's financial strength, or its the ability to pay a bond's principal and interest in a timely fashion. In this grading system, a rating of double AA is higher than a single A.
As the Chair of the City's Finance, Economic Development, and Transportation Committee, Councilwoman Michele Martinez commented, "The Mayor and City Council have made tremendous strides in the improvement of the City's finances. This rating is a direct result of our commitment to improving the fiscal health of the City and will enable the City to continue to enhance services to the community."
Fitch evaluated the economic conditions of the City of Santa Ana and determined that the City's ability to repay the debt service on these bonds are more favorable now than during their last review in 2013. This is due to a variety of conditions, including: increases in assessed property values over the past several years, additional housing set-aside funds that were previously restricted and are now available for debt service, and compliance with the redevelopment dissolution procedures.
"The City, as the Successor Agency to the former redevelopment agency, is very pleased with the recent ratings upgrade for the 2011 Redevelopment bonds by Fitch Ratings. This is indicative of the city's strong fiscal management, the leveraging of the improvement in our local economy, and will allow the city to position itself for sustainable growth and economic prosperity," stated Kelly Reenders, Executive Director of Santa Ana's Community Development Agency.
Further information is available here.
###