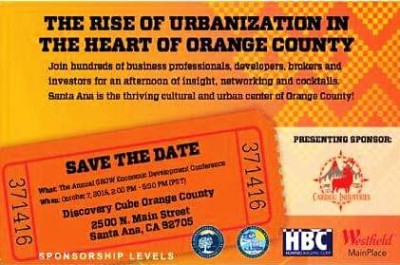 City of Santa Ana
Community Alert: City, Chamber Gathering Major Real Estate Players for GROW Conference
On the afternoon of Wednesday, October 7, the new exhibit hall at Discovery Cube Orange County will fill with developers, investors, property owners, real estate brokers and business leaders as Santa Ana's third annual GROW Conference gets under way, presented by Caribou Industries.
The theme for this year's conference is "The Rise of Urbanization in the Heart of Orange County," and topics under discussion will include adaptive re-use and transit-oriented development. The event includes networking and cocktails, and the guest moderator will be Steve Churm, chief revenue officer at Freedom Communications.
A trio of executives from City Hall will demonstrate how Santa Ana has come to be the leading hotbed of economic development opportunities in Orange County. They include city manager David Cavazos; Hassan Haghani, new executive director of the Planning and Building Agency; and Kelly Reenders, executive director of the Community Development Agency.
A second discussion panel will include Michael Harrah, president of Caribou Industries; Ryan Chase, principal at S&A Properties and president of Downtown Inc.; Jonathan Maher, general manager at Westfield MainPlace; and Joon Choi, principal at Harbor Associates.
General admission to the GROW Conference is $75 and seats may be reserved online at www.grow-conference.com. A special discounted price of $50 is available to members of several organizations: CoreNet Global, Urban Land Institute, NAIOP Commercial Real Estate Development Association, International Council of Shopping Centers, Building Industry Association and the Santa Ana Chamber of Commerce. Registration and networking begin at 2:30 pm, and the program runs from 3:00 to 5:00pm with cocktails following.
The Discovery Cube's new Julianne Argyros Showcase Theater & Exhibition Hall is a 10,000-square-foot flexible space with the ability to transform from a world-class exhibition hall to a 500-seat theater. Conference attendees will be the first to view a new video presentation featuring the sights and sounds of Downtown Santa Ana and interviews with key local figures.
The GROW Conference event is one of the projects of the Santa Ana Economic Development Council (EDC), a collaborative body made up of local business leaders and representatives from the City of Santa Ana and the Santa Ana Chamber of Commerce. Since its founding two years ago, the EDC has brought an impressive list of players to the table in an ongoing effort to promote and advance Santa Ana as Orange County's center of business development.
Silver Sponsors for this year's event include California State University Fullerton, the City of Santa Ana Community Development Agency, Howard Building Corporation, and Westfield MainPlace. Bronze Sponsors include S&A Management and Spyglass Investment Group. Corporate Sponsors include Amusement Park, Beta Benefits Insurance Services, Inc., G&M Oil Company Inc., Integrity Escrow Inc., MOB Media Inc., Northgate Gonzalez Markets, Allstate Insurance Agent Octavio Pina, Schools First Federal Credit Union, Southern California Edison and U.S. Rigging Supply Corporation.
Corporate Partners include Rancho Santiago Community College District, Santa Ana Unified School District and the U.S. Small Business Administration.
###