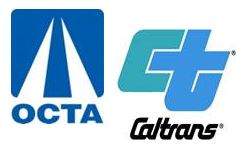 FOR IMMEDIATE RELEASE: Feb. 10, 2015
FOR MORE INFORMATION: Joel Zlotnik, OCTA (714) 560-5713, Yvonne Washington, Caltrans (949) 724-2644
NEWS ADVISORY: Dedication Ceremony Planned for $297 Million West County Connectors Project
WHAT: Transportation officials from the Orange County Transportation Authority and Caltrans will join with partners from the federal, state and local levels to mark the completion of the West County Connectors project, which directly connects the carpool lanes between the I-405, I-605 and SR-22 freeways and adds six miles of carpool lane.
The event will mark the completion of the four-year $297 million project that runs through the cities of Garden Grove, Westminster, Seal Beach, Los Alamitos, Long Beach and the community of Rossmoor.
WHEN: 2 to 3 p.m., Thursday, Feb. 12.
WHERE: Caltrans Bolsa Chica Maintenance Facility,13072 Old Bolsa Chica Road, Westminster, CA 92683
WHO: Scheduled speakers include:
OCTA Chairman Jeff Lalloway
David S. Kim, associate administrator Federal Highway Administration
Malcolm Dougherty, director California Department of Transportation
Lucy Dunn, incoming chair California Transportation Commission
OCTA Director Michelle Steel, Orange County Supervisor, Second District
OCTA Director Gary Miller, Seal Beach council member
OCTA CEO Darrell Johnson
WHY: The West County Connectors project provides seamless transitions for drivers traveling the carpool lanes from one freeway to the next along the I-405, I-605 and SR-22 freeways. By eliminating the need for drivers to merge and weave, the freeway improvements make travel times more efficient and help the environment because of less braking and sudden accelerating. About 370,000 vehicles per day travel through the stretch of freeways that are part of the project, making it one of the most heavily traveled in the nation.
# # #