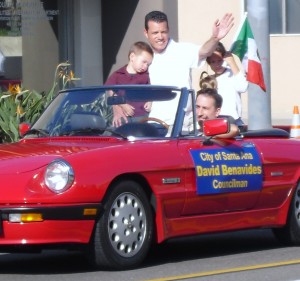 Before I get to the point of this post I would like to thank the administrator here at New Santa Ana for allowing me to pen this post and share it with the readers.  Despite what our good friend from Irvine says, I am not blogging again here or anywhere else.  However I felt what I am about to write needed to be said.
The last couple of weeks have been quite tumultuous here in Santa Ana and it culminated last evening with the city council's action regarding the unfortunate comments made by Mayor Pro Tem Claudia Alvarez.  I know from speaking to a number of the councilmembers just how tough it has been on them personally as they have dealt with this emotionally charged issue.  It has not been a fun time for anyone of them, not Claudia and not David or Carlos either.
Clearly I have been critical of many of Councilmember Benavides actions during his time on the council and I did not support the majority of the items included in the 85A last night, the exception being the condemnation of Mayor Pro Tem Alvarez's comments which was passed by the council.  With that being said I would like to commend Councilmember Benavides for the way he conducted himself last night and throughout this whole process.
When it was Councilmember Benavides turn to speak last night he did so eloquently, thoughtfully, respectfully and quite professionally.  He did not seize upon this moment to take pot shots at Mayor Pro Tem Alvarez just to throw red meat to his voracious base of supporters in the audience.  He handled it with dignity.
When the vote was cast and Councilmember Benavides found himself on the losing end of the 4-3 vote he continued to take the high road unlike so many of his friends in the chambers.  He did not lash out and berate his colleagues.  He did not talk of recalls or hurl insults.  He held his head high, kept his eye on the prize and sent a message that I hope resonates with all of Santa Ana.
The democratic processed had worked and David recognized this.  He said, "The vote has been cast and the decision has been made.  It is time to move on."
I certainly hope that this is the case and we do move on.  Our city is facing serious matters in the coming months and years and it is time that we focus on them and not get sidetracked by wedge issues.  I know that the council has put this issue behind them and now the community must do the same.  I sure hope David's words resonate with his supporters as well as his detractors.
Thank you Councilmember Benavides and the entire Santa Ana City Council for the leadership you demonstrated last night.  David you acted with dignity.