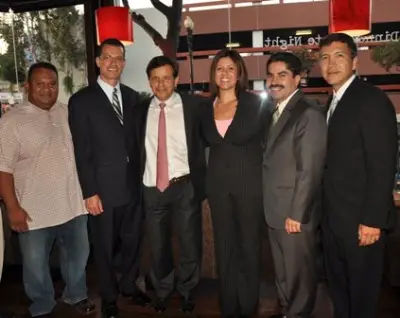 Santa Ana Council Member Vince Sarmiento, who is widely respected by both Democrats and Republicans, sent out a letter via email yesterday encouraging his supporters to back his colleague, Santa Ana Council Member Michele Martinez, for the 69th Assembly District.  Sarmiento and his wife are hosting a fundraiser for her on Thursday, Feb. 23.  Here is Sarmiento's eloquent letter:
I am writing to urge you to join my wife and I in supporting Councilwoman Michele Martinez for election to the California Legislature. As a friend and colleague, Councilwoman Martinez has demonstrated that she is the best candidate for the 69th Assembly district. The district is currently represented by Assemblyman Jose Solorio, who is termed-out and has already endorsed Michele for his seat in the Assembly.
Michele is not only the best qualified candidate to represent the district, but during her six years on the Santa Ana City Council she has demonstrated that she is a leader who speaks out and acts to support and protect the interests of the people of Santa Ana. A strong advocate for public safety, education, health and economic development priorities. Michele will be a strong voice for Central Orange County in Sacramento.
I urge you to please take a few minutes to learn more about Michele and to help us elect her to the Legislature. Visit her website at www.michelecmartinez.com or contact her at michelemartinez2012@gmail.com to learn about her background, experience, education and track record as a responsible and independent councilwoman.
On February 23rd my wife and I are hosting a fundraiser at our home to help get her message out to the voters. Please see attached invite for details and address to our home. If you cannot make it to our fundraiser, please consider sending her campaign a contribution of $100 today.
To contribute send your check to:
Michele Martinez for Assembly 2012
310 W. 3rd Street, #1018
Santa Ana, CA. 92701
Or you may also contribute online at:
https://secure.actblue.com/page/sarmiento4martinez2012.
Sincerely,
Hon. Vincent Sarmiento and Eva Casas Sarmiento
Councilman, Ward 1
City of Santa Ana