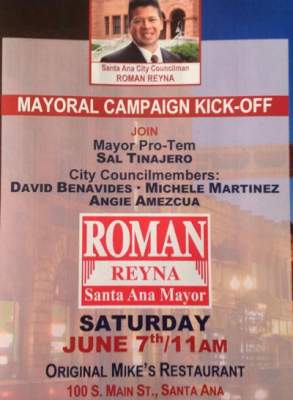 Santa Ana Councilman Roman Reyna, looking to unseat ten-term Mayor Miguel Pulido in the November election, will kick off his mayoral campaign Saturday pledging to stamp out "backroom deals" and increase City Hall transparency, according to the Voice of OC.
Reyna's fundraiser features most, but not all, of his Council colleagues and will be held at Original Mike's, at 100 South Main St., in Santa Ana, at 11 am today, Saturday, June 7.  Be careful.  Original Mike's received three health violations in April, including "Lack of/Unsanitary/Condition Walls/Floors/Ceilings."  And they received six health violations in March, including "Evidence of Vermin Activity/Presence of Animals/Insects."  Yum!

He is holding the fundraiser on Garage Sale weekend so most of his supporters likely won't be there.  
Reyna is running against Pulido because he is halfway through his first Council term and can lose in November while retaining his Council seat.  If Pulido opts not to run in November you can expect a stampede of candidates to file for the seat.
Reyna's Facebook page mentions that he went to Santa Ana High School but there is no record of any college degree.  He has worked at the Santa Ana Parks and Recreation Agency, the Santa Ana Boys and Girls Club and the Santa Ana YMCA.  How any of that qualifies Reyna to be our Mayor is a very good question but should we need someone to organize a volleyball game we can go to Reyna in full confidence.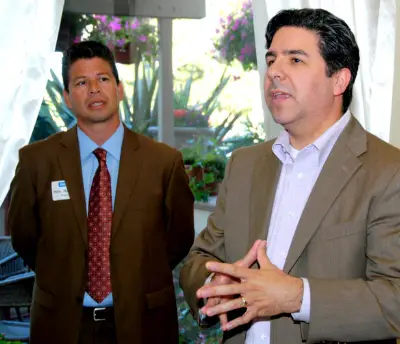 Reyna's city bio says he is a Case Manager at the Orange County Department of Education but that was a temp job that he has not held now for some time.  The Voice of OC reports that he is an outreach specialist for the Orange-based mental health services organization The Wellness Center.
Since Reyna became a Councilman he and his friends voted to get rid of the SAPD's strike force and crime has shot up all over the city with gang shootings in particular becoming an epidemic.  Santa Ana continues to be one of the only large cities in Orange County that does not publish their police logs.  Both Anaheim and Irvine do as does the OC Sheriff. So much for transparency in Santa Ana!
Reyna voted to fire our former City Manager, Paul Walters, who was also our Chief of Police.  He then voted to overpay the new City Manager who has convinced the City Council to put a measure on the November ballot to increase our cell phone taxes.  Reyna and his colleagues also want us to give them a raise.  That they would do this in an election year is simply amazing.
And Reyna has had nothing to say about Santa Ana Planning Commissioner Phil Bacerra, who was appointed by Reyna's friend and colleague Councilman David Benavides.  Bacerra has refused to turn in disclosure forms about who he is talking to about city developments.  All of the other Planning Commissioners are turning this in.  Transparency fail!