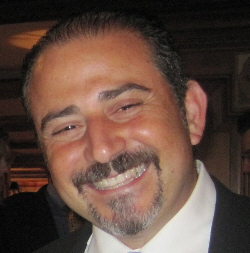 Santa Ana Councilwoman Michele Martinez, The leading candidate for the 69th Assembly District, is issuing a Proclamation at this Monday's City Council Meeting, to Chris Leo, the Director of Advocacy and Public Policy at St. Joseph Hospital, recognizing his support for Childhood Obesity Awareness Month.
Leo formerly served as the Chief of Staff for Lou Correa when he was both a Supervisor and an Assemblyman.  Leo has degrees from the Georgetown University Law Center, Gonzaga University School of Law, and the University of California, Los Angeles.
More than 23 million children and teenagers in the U.S. are obese or overweight, a statistic that health and medical experts consider an epidemic. While obesity rates have soared among all age groups in this country, obesity is a particularly grave concern for children.
Childhood obesity puts nearly one third of America's children at early risk for Type 2 diabetes, high blood pressure, heart disease and even stroke – conditions usually associated with adulthood.
Every September, National Childhood Obesity Awareness Month (COAM), gives elected officials, educators, physicians, and you the opportunity to take a stand and fight childhood obesity.
Click here for more information regarding Childhood Obesity Month.