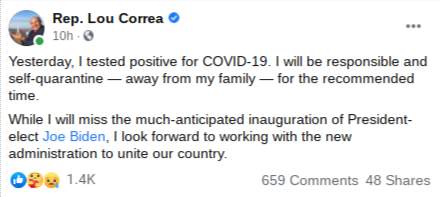 Congressman Lou Correa, who represents a district that includes most of the cities of Anaheim and Santa Ana, has posted on Facebook that he has tested positive for COVID-19.
Correa did not elaborate as to how he caught the disease but he was at the U.S. Capitol when a horde of Trumpers invaded, most without masks on. Since their assault several members of Congress have tested positive for COVID-19.
Correa was also accosted by more Trumpers, including some not wearing masks, at Dulles International Airport in Virginia, the day after the riot at the U.S. Capitol.
At least six members of Congress have tested positive since House members were forced to shelter together while hundreds of Trump supporters invaded the U.S. Capitol on Jan. 6. They include Reps. Bonnie Watson Coleman, D-NJ, Jake LaTurner, R-KS, Pramila Jayapal, D-WA, Rep. Adriano Espaillat D-NY and Brad Schneider, D-IL, according to Web-MD.
Capitol Police are also investigating allegations by Democratic members of Congress that Republican lawmakers gave tours of the Capitol to supporters of President Donald Trump a day before a pro-Trump mob rioted there, according to CNBC. There are allegations that the tours were intended to give a sneak peek to the eventual rioters of the Capitol's layout.
Correa said he will shelter away from his family and miss the inauguration of incoming President Joe Biden.
Incidentally Correa had received the first dose of the Pfizer-Biotech COVID-19 vaccine before contracting COVID-19. That vaccine is about 52% effective after the first dose and that increases to about 95% after the second dose.