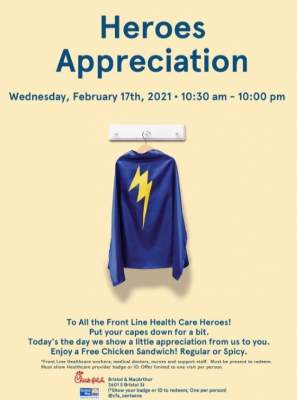 We are going to have a drive-thru event on Friday, February 17th at our Chick-Fil-A store at 3601 S. Bristol & MacArthur, in Santa Ana from 10 a.m. – 10 p.m. We are looking forward to give back to our heroes in health care, by providing them with a FREE MEAL on us. They will need to show their badge or ID in order to redeem their free meal.
Our reasoning behind this event is to care for those who serve our community day in and day out. We do not know the struggles they go through mentally, physically and even emotionally. Ultimately, we want to uplift our hero's spirits and help them continue to keep persevering.
It is the least we can do for those in the front lines whom take care of us; A Free Meal on us, here at Chick-fil-A Bristol & MacArthur!
For more information on Chick-Fil-A Bristol & MacArthur:
Instagram: @cfa_santaana
Facebook: Chick Fil A Bristol & MacArthur