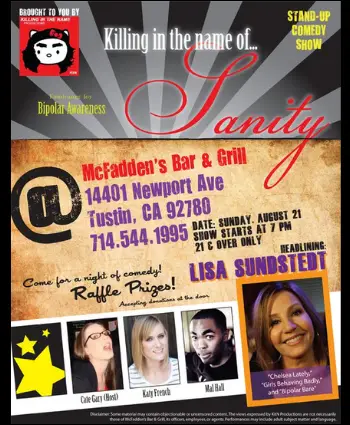 There is a free stand-up comedy show called "Killing in the Name of Sanity" to raise awareness of bipolar disorder, scheduled for this evening, August 21, at
McFadden's Bar and Grill, located at 14401 Newport Avenue, in Tustin, from 7 pm to 9 pm.
All of the comedians are bipolar, except for the ones who aren't (we'll let you figure out which are which).
This show will be either spectacular or a train wreck.
What Are We Killing For?
What do Carrie Fisher, Robert Downey Jr., and your ex-girlfriend have in common? They're bipolar. (And at some point you've wanted to bang them.)
There's a big stigma associated with being bipolar, and it's mostly based on prejudice. Bipolar people have changed the world. Did you know Winston Churchill and Florence Nightingale were bipolar? Do you know who isn't? Glenn Beck. (Though, to be fair, Team Bipolar's got Mel Gibson, but there's a difference between being bipolar and being an as*hole… )
We are accepting $10 donations at the door, or whatever else you care to give. Also, there will be a raffle at the end of the show. Tickets are $1 each or 6 for $5. Proceeds to be donated to a local Orange County bipolar support group.
The Comedians
This is one of the best lineups KitN has ever had. Headliner Lisa Sundstedt has written for "Chelsea Lately," and feature comedian Mal Hall has toured nationwide for NBC. We also have Lauri Roggenkamp (winner of OC's Funniest Person contest) and local favorite Katy French.
This show is for people 18 and over. McFadden's is also a restaurant, so you can get dinner there. Free parking.