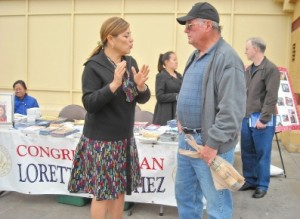 Congresswoman Loretta Sanchez, Representing California's 47th Congressional District
MEDIA ADVISORY, FOR IMMEDIATE RELEASE: August 22, 2011
Contact: Adrienne Watson, 202-309-0825
REP. LORETTA SANCHEZ RELEASES PUBLIC SCHEDULE FOR AUGUST 27
WASHINGTON, D.C. –Congresswoman Loretta Sanchez (CA-47) today released the following schedule of events for Saturday, August 27 of interest to media and the public. Please note that these events are subject to change. If you plan on attending any event, please verify the details with Rep. Sanchez's district office in advance.
Saturday, August 27, 2011
11:00am – 1:00pm COMMUNITY OFFICE HOURS
Rep. Sanchez will host community office hours at El Super in Anaheim to visit with constituents about any issues or concerns, as well as to provide assistance with federal agencies and programs, including but not limited to, Veterans' Affairs, Medicare, Social Security, and Visas.
Address: 650 N. Euclid St., Anaheim
This event is open to the public/media.
1:30pm- 2:30pm STUDENT VETERANS GRADUATION RECOGNITION AND BRIEFING
Rep. Sanchez will host a Student Veterans Graduation Recognition and Briefing in order to honor student veterans who graduate from college this year and celebrate the accomplishments of these men and women who have served in our military.
Address: Gabrielino Room at the Titan Student Union at California State University, 800 North State College Boulevard, Fullerton
This event is open to the public/media.
Congresswoman Loretta Sanchez is proud to represent California's 47th Congressional District, which includes the cities of Anaheim, Garden Grove, Santa Ana, and parts of Fullerton in Orange County. She serves as Ranking Member of the House Armed Services Subcommittee on Strategic Forces and a senior member of the Committee on Homeland Security. Rep. Sanchez is also a member of the fiscally conservative Blue Dog Coalition and sits on the bipartisan, bicameral Joint Economic Committee.
# # #
United States House of Representatives
1114 Longworth House Office Building • Washington, DC 20515
Phone: 202-225-2965 • Fax: 202-225-5859