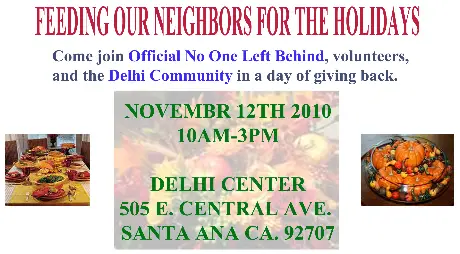 Official No One Left Behind is hosting a charitable holiday event on November 12, from 10 am to 3 pm, at the Delhi Center, located at 505 E. Central Ave., in Santa Ana.
Forty pound boxes of food will be provided to the needy. The food will include holiday favorites.  There will also be entertainment.
The folks organizing this wonderful event need help with the sound.  They have a DJ however.  They also have signed several musicians, including  four Latin artists,1 R and B artist, 1 pop artist, and 1 hip hop artist.
The organizers also are looking for a walk-in cooler/freezer and a refrigerated truck.
For more info contact Joyce Hall at 714-973-1982, or email her at officialnooneleftbehind@yahoo.com.