A drive-through emergency food assistance distribution program will take place on Saturday, April 11, from 8 a.m. to 2 p.m. at Santa Ana College, 1530 W. 17th St. All in need of food assistance in Orange County are welcome.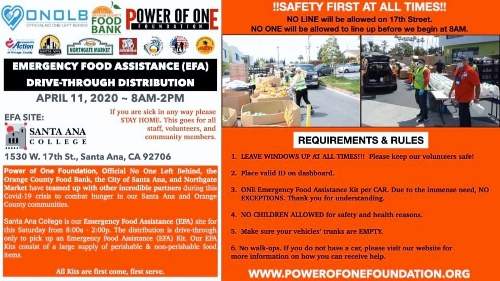 A variety of perishable items, such as fresh produce, milk and meat, and non-perishable items such as rice, beans and canned goods will be distributed.
Distribution will be first come, first serve. Lining up will not be permitted until 8 a.m. Due to the anticipated number of attendees, only one household and occupant per car and NO CHILDREN allowed for health and safety reasons. Windows must be up, trunks must be empty, and drivers need to present a valid ID (on dashboard). The program is drive-through only, no walkups.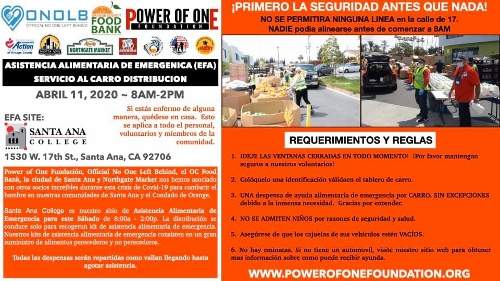 Two local nonprofits – Power of One Foundation and Official No One Left Behind – have partnered with the Orange County Food Bank, Community Action Partnership of Orange County and the City of Santa Ana to host the food distribution.
The Power of One Foundation needs more volunteers. If you want to be a part of their team ,please sign up here.
Community members who want to support drive-through food distributions in Orange County can contribute at www.powerofonefoundation.org or www.onolb.org.
Distribución de Alimentos el Sábado 11 de Abril en Santa Ana College
El sábado 11 de abril, de 8 a.m. a 2 p.m., se llevará a cabo un programa de distribución de asistencia alimentaria de emergencia entregado al automóvil en Santa Ana College.
Dos organizaciones locales sin fines de lucro – la Fundación Power of One y el Oficial No One Left Behind – se han asociado con el Banco de Alimentos del Condado de Orange, la Asociación de Acción Comunitaria del Condado de Orange y la Ciudad de Santa Ana para organizar la distribución de alimentos.
¿Qué?: La distribución de una variedad de artículos perecederos, como productos agrícolas, leche y carne, y artículos no perecederos como arroz, frijoles y productos enlatados.
¿Cuándo?: 8 a.m. a 2 p.m., sábado 11 de abril
¿Dónde?: Santa Ana College, 1530 W. 17th St., Santa Ana
¿Quién?: Todas las personas que necesitan asistencia alimentaria en el Condado de Orange son bienvenidas.
La distribución será por orden de llegada. No se permitirá hacer fila hasta las 8 a.m. Debido al número anticipado de asistentes, solo se permitirá una familia y ocupante por automóvil y NO HABRÁ NIÑOS PERMITIDOS por razones de salud y seguridad. Las ventanillas del auto deben estar subidas, las cajuelas deben estar vacíos y los conductores deben presentar una identificación válida (en el tablero del auto). El programa es solamente para la entrega de alimentos al automóvil, no habrá entrega a los peatones.
Los miembros de la comunidad que desean apoyar la distribución de alimentos entregado al automóvil en el Condado de Orange pueden contribuir en www.powerofonefoundation.org o www.onolb.org.