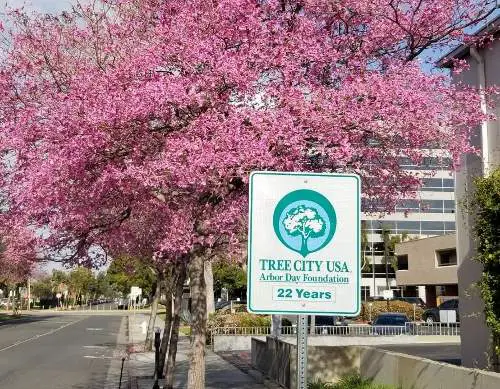 To celebrate National Arbor Day this Friday, April 30th, take a walk around our beautiful city and post a picture of your favorite tree. During the week of Arbor Day, your social media post can turn into trees planted! The Arbor Day Foundation will plant one tree for EACH Instagram, Twitter, or Facebook user who posts a picture of a tree using the hashtag #ArborDay, up to 100,000 trees. To learn more visit https://celebratearborday.com.
On April 22, 2021, in recognition of both National Arbor Day and Earth Day, the City's Public Works Maintenance Services Division in collaboration with West Coast Arborists, Inc., offered free fern pine tree seedlings at the Library's Earth Day event. During the event, 120 trees were distributed to the community.
The City of Santa Ana has been proudly designated as a Tree City USA by the Arbor Day Foundation for 22 consecutive years for its dedication in maintaining the City's urban forest of nearly 50,000 street trees. The City spends over $4 million annually on its tree care programs that includes pruning, planting and providing arborist evaluations of all City street trees. A healthy urban forest contributes to our community in many ways including adding value to your home and neighborhood, help cool your home by reducing your energy costs and provide an overall positive community atmosphere. For more information about the City of Santa Ana tree program, visit https://www.santa-ana.org/green/tree-program-tree-city-usa.
Celebre el día del árbol el viernes: publique una imagen de su árbol fav
Spanish/español: https://bit.ly/3vjt3l2
Kỷ niệm Ngày Arbor Thứ Sáu ở Santa Ana
Vietnamese/Tiếng Việt: https://bit.ly/2Ps4yD4