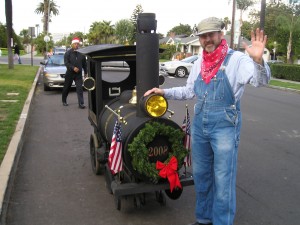 Could Jim Walker become Santa Ana's next Mayor?
When Santa Ana community activist Jim Walker ran against Santa Ana Councilman Vince Sarmiento, in 2008, he did so with very little money. But Walker ended up with over 37% of the vote, according to Smart Voter.

In 2006, Thomas Gordon ran against Santa Ana Mayor Miguel Pulido, with zero money, and he got over 24% of the vote, according to Smart Voter.
Now Pulido is being challenged by Al Amezcua, a local lawyer who has had some electoral success, as a past member of the Rancho Santiago Community College District's Board of Trustees. Both of these men are well known and can raise money. But will they split the Latino vote and allow a non-Latino to become the next Mayor of Santa Ana?
In 2008, the Latino vote split scenario almost happened when Pulido was challenged by Councilwoman Michele Martinez.  Pulido won with only 55% of the vote.  Martinez got over 29% of the vote.  Community activist George Collins got almost 8,000 votes and ended up with just under 14% of the vote.
So who else might challenge Pulido this year?
I think Walker would have a great chance, as would Collins.  Both would do well in the Latino vote split scenario.  Collins would benefit from the Tea Party movement, while Walker is a progressive Democrat, who may be more liberal than the conservative Pulido.
What about Gordon?  He appears to be more interested in challenging Councilman Sal Tinajero, in Ward 6.
Anyone else?  Former Housing and Redevelopment Commissioner Glen Stroud has a bone to pick with Pulido, after Stroud got dumped from his commission.  So does former Historic Resources Commissioner Jeff Dickman.  And former ETAC Commissioner Don Cribb isn't happy with Pulido either.   Any of them would be formidable Mayoral candidates.
What about the ladies?  French Park activist Debbie McEwen once poured thousands of dollars of her own money into the campaign against the One Broadway Plaza, which Pulido supported.  And her pal Julie Stroud, who serves on the Santa Ana Parks and Recreation Comission, is also rumored to be unhappy with Pulido.  And what about Evangeline Gawronski?  She heads up the Comm Link Board and lost, barely, when Pulido supported Tino Rivera instead. 
This might be the year to take out Pulido.  And the winner may not be Amezcua.  We might end up with a non-Latino Mayor!