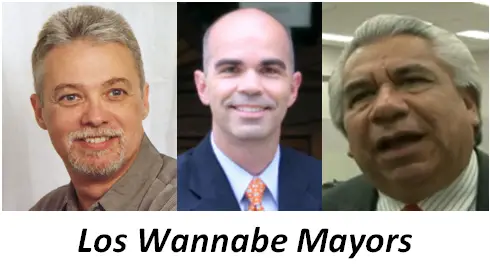 In a stunner, four challengers qualified today to run for Mayor of Santa Ana, perhaps dooming the campaign of Alfredo Amezcua, the former Rancho Santiago Community College District Trustee who was the first announced opponent to the incumbent, Mayor Miguel Pulido.
The other challengers include Charles Hart, a Republican and county government worker who is trying to pass the California bar exam; Roy Alvarado, whose nomination signatures are still being verified; and past mayoral candidate George Collins, a documentary filmmaker and Republican who lives in Ward 6.  Collins received 13.8% of the vote in 2008, when he first opposed Pulido, according to Smart Voter.  In 2006, Collins ran for the Santa Ana City Council, receiving 16.9% of the vote, according to Smart Voter.
Alvarado is registered as a Decline to State voter.  He is a retired contractor who is originally from New Mexico. It is telling that you cannot find him on Facebook.  Nor can you find any pictures of him online.  He often speaks at Council meetings, where he tends to oppose most things.
If Amezcua had been the sole opponent he might have had a shot.  Now the opposition vote will be split and essentially nullified.
In related news, Councilmember Michele Martinez did not draw an opponent, in Ward 2.  She has promised on Facebook to walk precincts for her fellow Council incumbents.
In Ward 4, Councilmember David Benavides also drew a free pass.  He has been in the headlines of late for his alliance with known gay-bashers and Mexican-haters Lupe Moreno and former SAUSD Trustee Rosie Avila, as well as a slew of Minutemen including the notorios Anita and Gary Hynds.  There are rumors going around that Benavides will be supporting Amezcua for Mayor and Thomas Gordon for Ward 6, as they share many of the same backers.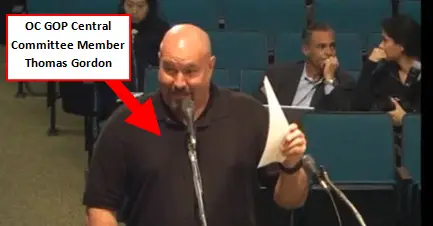 Councilmember Sal Tinajero drew three opponents, in Ward 6, including OC GOP Central Committee Member Thomas Gordon, who like Benavides is also an ally of Moreno and her Minutemen.  Gordon maintains a second household in Denver, Colorado.  He is a government worker for L.A. Unified, where he serves as an asbestos inspector.
Gordon got just over 24% of the vote, in 2006, when he ran for Mayor against Pulido, according to Smart Voter.  He also won reelection on the OC GOP Central Committee this year, barely, coming in fifth out of six candidates.  He got just 10.5% of the vote, according to Smart Voter.
"Community Volunteer" Helen Martinez, is also running.  Her signatures are still being verified.  She is a registered Democrat.

Nam Pham, who previously served with Moreno on the Santa Ana Library Board, ran for the Rancho Santiago Community College District's Board of Education in 2008.  He came in last place with 10.9% of the vote.  Pham is a Republican.
The two incumbents who are up for reelection to the Santa Ana Unified School District's Board of Education, John Palacio and Audrey Yamagata-Noji, both qualified for the ballot.  I am their only challenger.  There were nine candidates in all for the SAUSD School Board in 2008.
Palacio, like Gordon, maintains a second household out of state, in Palacio's case that would be in Phoenix, Arizona.  He runs the HEEF Foundation and as an SAUSD School Board Member he draws a salary from the School District as well as free healthcare.  He has been on the SAUSD School Board for twelve years.
Noji is the Vice President of Student Affairs at Mt. San Antonio College, in Walnut.  She made headlines a few weeks ago when she illegally expelled a student for Tweeting about a teacher.  You can read about that scandal by clicking here.  Yamagata-Noji has been on the SAUSD School Board for an astonishing twenty years.