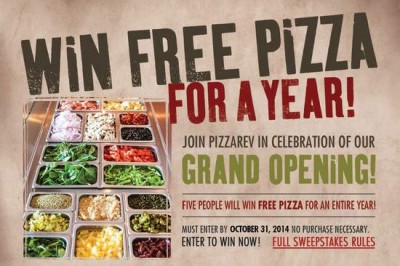 Looks like Santa Ana's going to be the next city in Orange County to get a fancy build-your-own pizza joint. PizzaRev, a Blaze Pizza/Pieology-style pizzeria will be opening the doors of its corner store on Bristol Street and MacArthur next Thursday, Aug. 14, 2014, according to the OC Weekly.
PizzaRev is a "build-your-own" fast-casual pizza concept that has reinvented the way America eats its favorite food. Guests are empowered to fully customize a personal-sized 11" pizza for under $8. Homemade dough options, flavorful sauces, delicious cheeses, and over 30+ fresh toppings, everything is on display at PizzaRev and assembled right before your eyes. The pizzas are then fired in a four-ton, 900 degree, stone-hearth oven producing a thin and crispy "Roman-style" pizza in just three minutes, according to their Facebook page.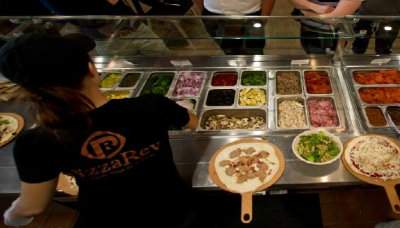 The OC Weekly also reported that "Customers will get to choose how much they pay for a personal pizza on the first business day. Yes, you can pick zero, but don't be a jerk because all of the pizza proceeds that day will be donated to the Angels RBI League, a youth-serving nonprofit."
And you can sign up at the grand opening for a drawing to win one year of free pizza by clicking here. There will be five total winners.
Pizza Rev in Santa Ana is located at 3605 S. Bristol St.  Call them at 714-708-2587 or click here to order online.  They will be open daily from 11:00 a.m. to 10:00 p.m.