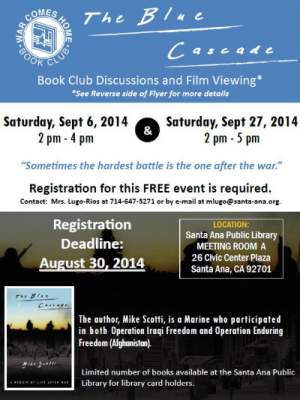 City of Santa Ana
Community Alert: SANTA ANA PUBLIC LIBRARY BEGINS SERIES OF PROGRAMS WAR COMES HOME: FINDING PEACE AT THE HOME FRONT
SANTA ANA, CA – The Santa Ana Public Library will begin a series of free programs under the War Comes Home: Finding Peace at the Home Front CA Reads funded project. The first program is a discussion of the book Blue Cascade and viewing of the film Severe Clear.
First Lt. Mike Scotti, a Marine who participated in both Operation Iraqi Freedom and Operation Enduring Freedom (Afghanistan) wrote The Blue Cascade. This is a well-written, hard-hitting memoir of a veteran of both Afghanistan and Iraq during the early years of 2000. The language and emotions are raw, but real, as the author shared how living through the war, seeing and experiencing what he did affected him and his fellow marines.
Limited copies of the book, Blue Cascade, are available at the Santa Ana Public Library for library card holders. Barnes and Noble, telephone: (714) 558-0028, has set aside copies of the book for sale. Just go to the front counter and ask for the Santa Ana Public Library Book Club selection. The book is also available in Kindle format from Amazon.
The screening of the film Severe Clear will conclude the book club discussion. Severe Clear is a powerful film shot by First Lt. Scotti on his Mini-DV camera and told through his own journal entries. This is more than a documentary, as it is a first-person account of the Marines who were on the front lines of Operation Iraqi Freedom. Viewer discretion is advised for violence and language.
Attending the last book discussion and screening of Severe Clear will be Janice McInally, therapist at the American Red Cross, specializing in Deployment and Post-Deployment workshops.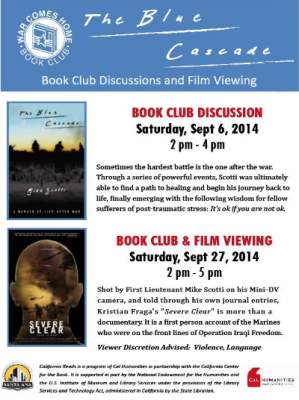 Book club dates and times are:
Saturday, September 6, 2014 2 pm – Discussion of first 8 chapters
Saturday, September 27, 2014 2 pm – Final book discussion and film, Severe Clear
Book club meetings will be held at the Santa Ana Public Library, Meeting Room A (second floor), 26 Civic Center Plaza, Santa Ana, CA 92701 Free parking is available at city lot P4, on Ross Street.
Registration is required. For additional information or registration, contact Milly C. Lugo-Rios at 714-647-5271 or by e-mail at mlugo@santa-ana.org Registration deadline: August 30, 2014.
California Reads is a program of Cal Humanities in partnership with the California Center for the Book. It is supported in part by the National Endowment for the Humanities and the U.S. Institute of Museum and Library Services under the provisions of the Library Services and Technology Act, administered in California by the State Librarian.
Cal Humanities is a non-profit state partner of the National Endowment for the Humanities. For more information on Cal Humanities, please visit www.calhum.org.
THE SANTA ANA PUBLIC LIBRARY IS LOCATED AT: 26 CIVIC CENTER PLAZA (corner of Civic Center and Ross)
###