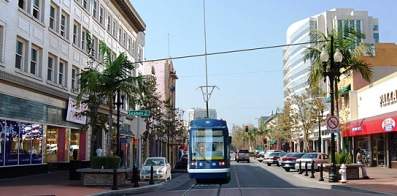 Santa Ana City Council Tuesday night decided on Fourth Street as their preferred route for a streetcar system envisioned to begin transforming the transit landscape in Orange County, despite a signed letter of opposition from businesses along the iconic Latino shopping corridor, according to the Voice of OC.
In a unanimous 4-0 vote, the City Council approved a $238 million streetcar option that would travel along Santa Ana Boulevard and Fourth Street. Mayor Pro Tem Sal Tinajero and council members Vincent Sarmiento and Roman Reyna were absent, according to the O.C. Register.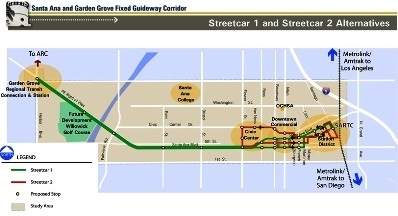 The selected route, Streetcar 1, proposes a new transit system that would operate primarily along Santa Ana Blvd. and the Pacific Electric Right-of Way (PEROW.) Between Mortimer and Ross St., it would operate westbound only on Santa Ana Blvd. and eastbound only on Fourth St. It would provide easy access to both the Civic Center and Downtown Santa Ana, according to the City of Santa Ana's Transit Vision website.
The Santa Ana Planning Agency recommended Option 1 based on these factors:
Strong community support for a streetcar system
Highest ridership
Serves greatest number of transit dependent households
Least right -of -way acquisition compared to Streetcar Alternative 2
Lower cost compared to Streetcar Alternative 2
Most transit – supportive land uses
Larger economic development potential
Ease of constructability compared to Streetcar Alternative 2
The developers who snatched up the land along this route will no doubt see an increase in property values.
Some business owners in Downtown Santa Ana are concerned that the streetcar will hurt the popular Downtown Santa Ana street festivals, such as the Fiestas Patrias and the Cinco de Mayo.  But the all-Latino City Council brushed aside those concerns on Tuesday night.
As the lead agency, the Orange County Transportation Authority is looking to pay for the project with federal and state funds, Measure M2 money, and city and developer contributions. The city has budgeted $500,000 toward the project, which is expected to start operations in 2019, according to the O.C. Register.
The 4.1-mile Santa Ana leg would connect west of the city's downtown core to the train station and then run north to end in a relatively obscure business district in Garden Grove. The project's supporters say the lines would sow the seeds for an investment boom in areas that, at the moment, don't look too promising, according to the Voice of OC.