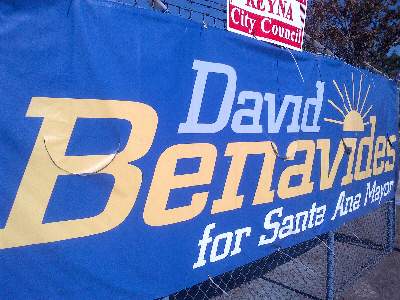 Actions Speak Louder Than Words: Councilmen Benavides & Sarmiento Are Bad for Labor and for Business!
I wrote previously about how Council Members Benavides and Sarmiento didn't share with the Orange County Labor leaders that they did a ton of contracting out to private companies this year, like street sweeping, parking enforcement, and emergency medical transportation – killing hundreds of union jobs. But they were given the labor endorsement by the failed political labor staff over at the OC Labor Federation, Teferi Gebre and Julio Perez, who didn't review their anti-labor voting records.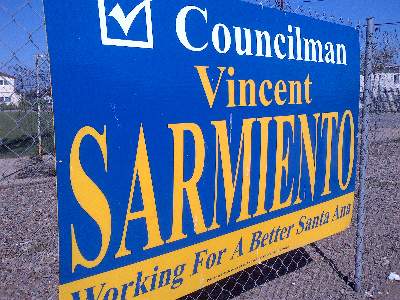 Now we see large signs by Benavides and Sarmiento all over town that were paid for by their campaigns, but not printed by Union printers! See the photo examples above this post and above this paragraph. No union bugs, that's a no-no for many reasons for labor endorsed candidates and is a condition of their endorsement. (Taking a lead from his mentor Benavides, the Reyna sign seen atop the Benavides sign has no union bug either.)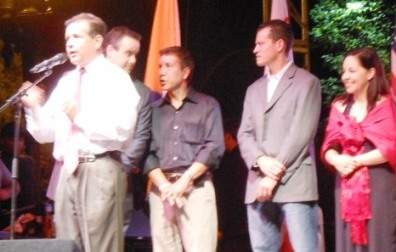 On the business side, both Council Members said, at the council debates and forums at the Rancho Santiago building and Delhi Center, that they think the council needs to be more business friendly and that Mayor Pulido pushes businesses away. Well, at the Council meeting this week they had the chance to show they were business friendly and instead they sent a very bad message to the business community and developers.
Benavides, Sarmiento, Michele and Tinajero voted for the "red tape" ordinance as Mayor Pulido appropriately calls it. They call it a "sunshine" ordinance, but in reality all it is a requirement for more city regulations, more required meetings and reports by businesses and developers, and more costs before they are even approved to build in town.
It should be noted that Mayor Pulido did vote for the transparency part of the Sunshine ordinance, but he wisely opposed the red tape element of it, while Team Benavides opted to kill developments and jobs.
The more days that pass, the more we know that many of the current Santa Ana City Councilmembers like Benavides and Sarmiento are not really that interested in what labor or business thinks. They just want to be elected and will say whatever it takes to win.