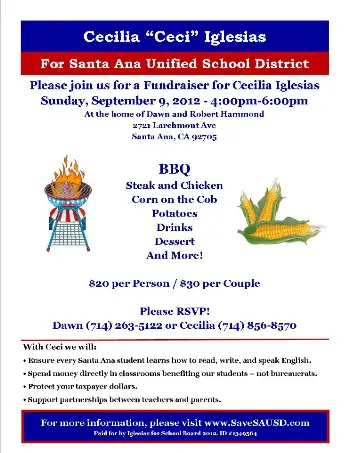 Cecilia "Ceci" Iglesias, a Republican candidate for the Santa Ana Unified School District's Board of Education, is having a BBQ fundraiser this Sunday, Sep. 9, from 4:00pm until 6:00pm, at 2721 N Larchmont Ave, Santa Ana, at the home of Dawn and OC Board of Education Trustee Robert Hammond.
The BBQ will include:
Steak and Chicken
Corn on the Cob
Potatoes
Drinks
Dessert
And More!
$20 per Person / $30 per Couple Minimum Donation
Please RSVP! Dawn (714) 263-5122 or Cecilia (714) 856-8570.