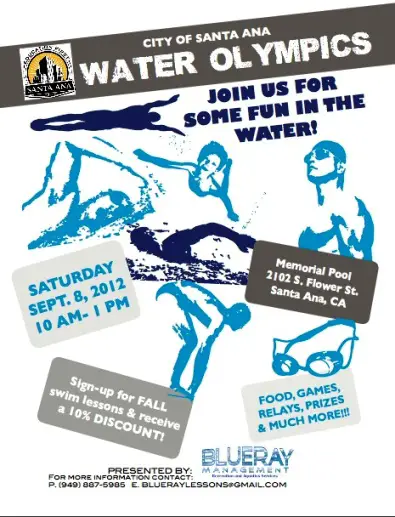 The City of Santa Ana & Blueray Management Present: Water Olympics 2012
Memorial Pool- 2102 S. Flower St., Santa Ana, on Saturday, Sept. 8, 2012, 10 AM – 1 PM. – $1 donation.
SANTA ANA, CALIFORNIA – This Saturday, September 8, 2012, Blueray Management is hosting a community outreach event for the entire city of Santa Ana with the Water Olympics. Blueray's focus is to give back to the City and its residents, as all the proceeds for this event, will go back to the community aquatics programming. Managing Director, Abby Pearose describes Blueray Management's Water Olympics as, "….a colossal pool party. Blueray is committed to building a stronger community through our aquatic programs."
The Water Olympics will kick off with the final inner city swim meet of the season; watch as local swimmers compete for top times. There will be music, food, prizes and much more! All event participants will not only have a great time in the water but also receive prizes for participating. The other half of the pool will be ready to party with beach balls, inflatables, noodles, and rafts for recreational swimmers. Local companies have contributed exciting prizes towards our raffle including- a One (1)-night stay at Marriot Hotels, Apparel from Hurley and O'Neil, and Darkstar Skateboard! Blueray will raffle free two (2) week Learn to Swim Lessons and Private Lessons. Be sure to visit the registration booth to receive 10% off all new Fall Aquatics program registrations. Bring your swimsuit because you don't want to miss all the fun!
For more information about the City of Santa Ana and Blueray's offerings, please visit www.blueraymgmt.com or contact them at 949-887-5985. Office hours are 1-6 PM Monday thru Friday. Blueray office is located at the Salgado Community Center Pool, 706 N. Newhope, Santa Ana, CA.
###