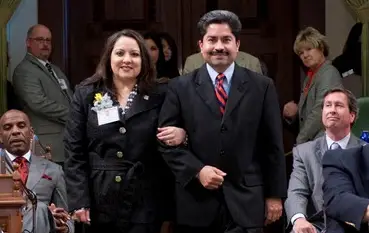 Assemblyman Solorio Honors Advocate for Girls at Woman of the Year Ceremony
Lucy Santana-Ornelas, Executive Director for Girls Inc., receives award on Assembly floor
SACRAMENTO – State Assemblyman Jose Solorio's (D-Anaheim) choice for the Sixty-Ninth Assembly District's Woman of the Year is Executive Director for Girls Inc. Orange County, Lucy Santana-Ornelas. She traveled to Sacramento today to receive the honor at a recognition ceremony held on the Assembly floor.
"Lucy has dedicated her heart, soul, time and talent to the girls and young women in our community," says Solorio. "She exemplifies the mission of her organization, 'inspiring all girls to be strong, smart and bold.'"
Born in Santa Ana, Lucy Santana-Ornelas is a graduate of Santa Ana High School, Santa Ana College and obtained her Bachelor of Arts degree from California State University, Fullerton (CSUF). Santana-Ornelas frequently tells her story of overcoming the advice of a high school counselor who told her to not bother pursuing college. Thankfully, she didn't listen. In 2008, she was highlighted as one of 50 distinguished Latino graduates of CSUF at the university's 50th Anniversary.
Santana-Ornelas's entire career and adult life have been spent in public service. She has an extensive awareness of Orange County community issues and needs and is passionate about creating opportunities for underserved youth, especially girls age 4-1/2 to 18.
"We are seeing girls experience low self-esteem and body image issues at a younger age than ever before," Santana-Ornelas says. "Girls Inc. can help break the barriers to success for those girls by providing girl-focused programs, adult role models and exposure to the world beyond their neighborhoods."
Santana-Ornelas is particularly proud of integrated projects that increase girls' interest in science, technology, engineering, and math by involving students in solving authentic problems, working with others, and building real solutions. Last year, Girls Inc. served 4,700 girls in Orange County. In an age of shrinking social services, Girls Inc.'s budget is projected to grow from $1.7 million to $ 2.5 million.
"We are so fortunate that our funding has increased during these tough economic times. Our proven success in helping girls achieve their potential and the recognition of the growing need for our services are huge factors in our growth," says Santana-Ornelas. The agency is scheduled to serve over 54 outreach program locations this year. Girls Inc. is funded mainly by public/private foundation grants, corporate giving and individual donations.
"This honor is the California Assembly's way of saying thank you for your dedication," said Solorio. "And thank you for changing the lives of thousands of Orange County's young women."
State Assemblyman Jose Solorio is the Chair of the Assembly Insurance Committee and also serves on the Assembly Appropriations and Transportation committees. He represents the Sixty-Ninth Assembly District, which includes the cities of Anaheim, Garden Grove, and Santa Ana. For more information about Assemblyman Solorio, visit www.assembly.ca.gov/solorio.