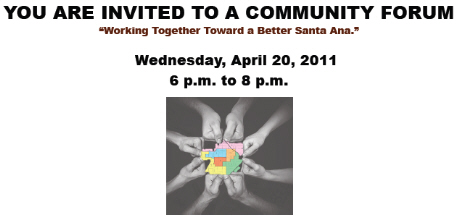 The Santa Ana Coalition for Better Government, which is a Political Action Committee, is holding a "Community Forum," on April 20, at the Rancho Santiago Community College District's headquarters.  Here is their invitation to the meeting:
Dear Friends & Colleagues,

As you probably know, my commitment to our beautiful City of Santa Ana continues… Quite a few community leaders and stakeholders have requested me to take a role in the creation and development of the SANTA ANA COALITION FOR BETTER GOVERNMENT (SACBG). For those of you who are not yet familiar with this new entity, the SACGB is a community organization comprised of residents and business owners encouraging civic participation, while promoting and advocating for efficient, transparent, accountable and ethical governance by the elected and administrative officials of the City of Santa Ana.
Please join us at our first Community Forum on Wednesday, April 20, 2011, from 6:00 to 8:00 p.m. at Rancho Santiago Community College District Conference Room 107. See the attached Invitation Flier and feel free to distribute this e-mail to your personal e-mail contacts, lists, friends and neighbors. If you have any questions about this new community coalition, please contact me.
I look forward to seeing you on April 20th!
Alfredo Amezcua
Attorney at Law
Law Offices of Alfredo Amezcua & Associates
1319 N. Broadway
Santa Ana, CA 92706
Ofc.: (714) 835-3538
Fax: (714) 835-0906
e-mail: amezcualglsrvcs@aol.com
###
Note that the invitation is from Alfredo Amezcua, one of several mayoral challengers last year who lost badly to incumbent Mayor Miguel Pulido.
The Santa Ana Coalition for Better Government is run by two men who do not live here in Santa Ana – Dr. Art Lomeli, who lives in wealthy Orange Park Acres and is a registered Republican, and John Acosta, who lives in Orange and is likewise a registered Republican.