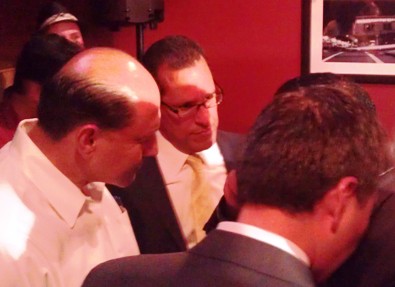 Santa Ana Ward 3 candidate Eric Alderete's campaign held a fundraiser tonight at Chapter One: the Modern Local, in Downtown Santa Ana.  There were at least 80 attendees including quite a few elected and appointed officials.  These included:
State Senator Lou Correa
Santa Ana Council Members Sal Tinajero, Vince Sarmiento, Michele Martinez and David Benavides (who came to the event by himself)
Rancho Santiago Community College District Trustees Mark McLoughlin, Larry Labrado and John Hanna
Santa Ana Planning Commissioners Sean Mill, Sandy Nalle, Patrick Yrarrazaval and Mario Turner
Santa Ana Personnel Board Commissioner Isabel Rivera
MWD Board Member Brett Barbre
Santa Ana Parks and Rec Commissioner Ken Nguyen (who is also a candidate for the Rancho Santiago Community College District, in Area 3)
Former Santa Ana Council Member Mike Garcia
OC Labor attorney Florice Hoffman
Santa Ana Community Redevelopment Commissioner Desi Reyes
Santa Ana Human Relations Commissioner and OC Vector Control Board Member Cecilia Aguinaga
Santa Ana college student leader Alex Flores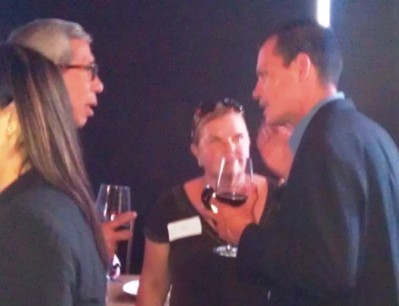 The room was packed and very loud but I did overhear Benavides getting chewed out by quite a few attendees who asked him to pull out of the Santa Ana Mayor's race.  It had to be uncomfortable for him.  The filing deadline is tomorrow.  I am certain that either Benavides or Tinajero will pull out.  There is no way that both will stay in to challenge Mayor Miguel Pulido.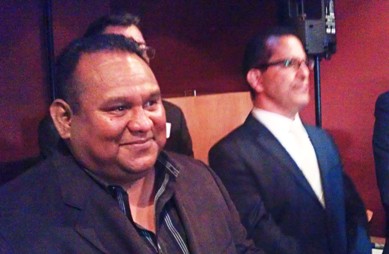 Tinajero served as the event's Master of Ceremonies.  He urged the crowd to donate to Alderete.  After he spoke, his colleague, Sarmiento, took the microphone.  He spoke about how he and Alderete went to UC Berkeley and graduated from the same law school. 
Then Alderete got up and told his story.  He grew up in Los Angeles under the tutelage of his tough but loving father who taught Alderete what it means to be a progressive.  His father also instilled in him the drive to finish law school and the heart to stand up for his fellow Latinos.  Alderete noted that his father led their family in boycotting grapes, in solidarity with the United Farm Workers and Cesar Chavez.
It seemed like a successful night for Alderete.  He is in a crowded race for Ward 3 but is off to a good start.