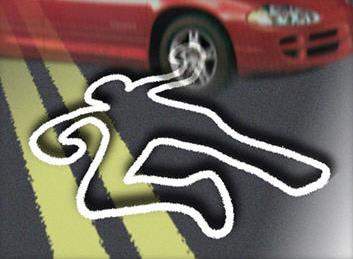 There was yet another accident involving a pedestrian and a vehicle in Santa Ana on Tuesday night this week, when a pedestrian crossing a major Santa Ana street was struck by a car before crashing through the windshield and into the driver, according to the O.C. Register.
A fellow was traveling northbound on South Bristol Street, in the middle lane, at around 8 p.m., when he ran into a man who was crossing the street near West Myrtle Street, outside of a marked crosswalk.
The impact was violent enough that the unfortunate pedestrian actually lost part of his right leg before the rest of his body became airborne.  His body then flew right into the windshield of the vehicle in question, striking the driver.
For whatever reason the driver continued to drive for some 60 yards, with the victim stuck in his car's windshield, before hitting several trees in the center divider and finally coming to a stop.
Firefighters from the Orange County Fire Authority removed the stricken pedestrian from the windshield and took him to Western Medical Center in Santa Ana, where he was in serious condition.
The driver was also hurt.  He broke an arm and was cut by the shattered blass.  he was taken to UCI Medical Center in Orange.  His injuries are not fatal.
The SAPD does not know yet if there were drugs or alcohol involved in this accident.  They also have not revealed the names of the driver and the pedestrian.