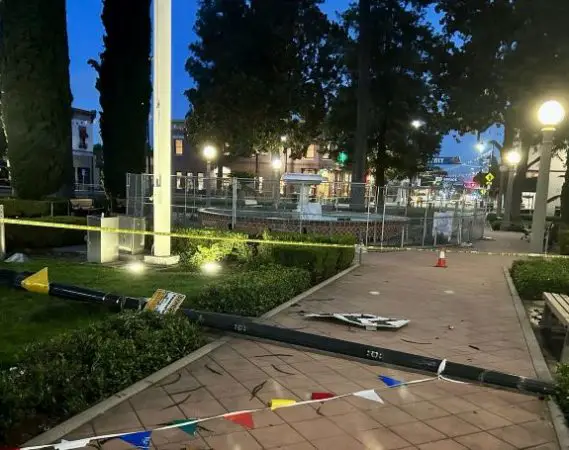 A 40-year-old male has died after being involved in a solo-vehicle traffic collision into Plaza Park at the Orange Circle in Orange.
Early last Friday morning, at around 12:45 a.m., the Orange Police Department responded to reports of a traffic collision at the intersection of Glassell Street and Chapman Avenue.
A Toyota Highlander was traveling at a high rate west on Chapman Avenue and collided into a light pole and tree inside Plaza Park.
The Orange City Fire Department used heavy rescue equipment to remove the driver from the vehicle and after attempting life saving measures, pronounced him deceased at the scene. The driver, a resident of Huntington Beach, was the only occupant in the vehicle.
At this time, it is unknown if drugs or alcohol were a contributing factor for the collision.
The fountain at the center of the Orange Circle is fenced off and still being repaired after a driver slammed his car into it a few months ago. That driver, Raymond Salazar Felix, was fleeing from the police.
Felix was in possession of a handgun without a serial number and a high-capacity magazine. He was also on probation for vehicle theft in Kern County and is believed to have just stolen the car that crashed into the fountain from Parker Street.
The Traffic Unit responded and assumed the investigation. The traffic circle was closed for approximately five hours while investigators processed the scene. Anyone with information can contact Det. Rocha at 714-744-7342.