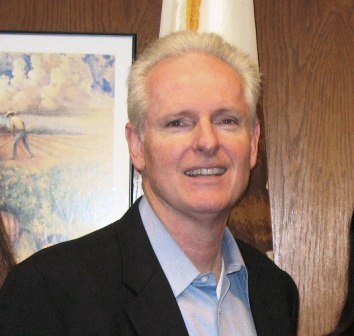 There are already so many good reasons not to support O.C. Clerk Recorder Tom Daly's pending campaign for the 69th Assembly District.  While he has not formally announced his campaign, Daly did hold a fundraiser, in Santa Ana, this week.
The 69th Assembly District is currently held by Jose Solorio.  The two other candidates for the Latino majority district are Santa Ana Councilwoman Michele Martinez and first time candidate Julio Perez, a labor consultant.
"Obama needs both an overwhelming edge among Latino voters and a heavy turnout," according to the L.A. Times.  It is not likely however that Latino voters in the 69th will be going to the polls in November, 2012, if Daly is the Democratic nominee for the 69th.  
Latino voter turnout has been a problem in central Orange County for years – having Daly atop the Democratic ticket won't help.
The Democrats already have a major problem – a new PBS series called "Lost in Detention" examines the sad story of over 400,000 Latinos put in immigration jail by the Obama administration.  Check out this introduction:
And that's just the tip of the iceberg.  Check out this excerpt from a recent Huffington Post article: "But facing double-digit unemployment and Obama's broken promises on immigration reform, Latinos are disaffected from the president and aren't especially energized about voting for him. The latest Gallup pollhas Obama's approval rating among Hispanics down to 48%, the lowest of his presidency, and down from 60% in January of this year."
Daly could in fact doom other local Latino Democratic candidates running for office on the November ballot.  In fact he might wreck Congresswoman Loretta Sanchez, whose campaign coffers are now empty due to the actions of her former Treasurer, Kindee Durkee.
The Democrats still don't have a candidate to oppose First District Supervisor Janet Nguyen, and their candidate for the 72nd Assembly District, which includes Little Saigon and part of Santa Ana, is a joke named Joe Dovinh.
Daly will be a total disaster for the DPOC – but check out the list of Democrats who were on Daly's host committee for his recent fundraiser:
Host Committee
Bill Lockyer, State Treasurer
Jose Solorio, State Assemblymember
Gail Eastman, Anaheim Councilmember
Bruce Broadwater, Garden Grove Councilmember
John Hanna, Rancho Santiago Community College District Board Member
Brian Conley, Rancho Santiago Community College District Board Member
Leonard Lahtinen, North Orange County Community College District Board Member
Donna Miller, North Orange County Community College District Board Member
Jordan Brandman, Anaheim Union High School District Board Member
Jan Domene, Anaheim Union High School District Board Member
Anna Piercy, Anaheim Union High School District
James Vanderbilt, Anaheim City Elementary School District
Tom Umberg, State Assemblymember, 69th District (Ret.)
 Todd Ament
Frank Barbaro
Dan Callahan
Cynthia Contreras
Lucy Dunn
John Erskine
Alden Esping
Linda Esping
Juan Carlos Flores
Mark Gaughan
Frank Garcia
Gary Hunt
Dan Jacobson
Charles Kim
Paul Kott
Mike Levin
Reuben Martinez
Carrie Nocella
Tom Phelps
Michael Ray
Southwest Regional Council of Carpenters
Geoffrey Stack
Bryan Starr
Steve Sullivan
Bill Taormina
George Urch
William C. Waggoner
John Withers
Are these people completely daft?  No wonder the DPOC is such a train wreck in Orange County.  Sanchez, Solorio and State Senator Lou Correa do NOT owe their seats to this lame party machine.  They won on their own.  How sad it must be for them to see this party drooling over Daly – knowing full well he will hurt his party and hurt Obama if someone doesn't talk some sense into him before it is too late.