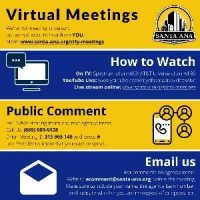 The Santa Ana City Council will have its regular meeting via teleconference today, May 5. In an effort to protect public health, prevent the spread of COVID-19 (coronavirus) and in compliance with the statewide stay-at-home order, there will be no in-person public meeting location.
The meeting begins at 5:45 p.m., following a 5 p.m. closed session.
There are several ways to watch the meeting:
• Live stream at www.santa-ana.org/city-meetings
• Live stream at www.youtube.com/cityofsantaanavideos/live
• Spectrum TV channel 3
• AT&T U-verse TV channel 99
The meeting agenda includes the following business calendar items:
• Discuss executive orders issued for COVID-19 and consider affirming, amending, extending or rescinding the order related to a temporary ban on residential rent increases. That ban was enacted by the City Manager on April 7 and is set to expire after May 31.
• Discuss the Orange County Superior Court Commissioner's order to release individuals with prior sexual assault convictions early and into the community.
• Public hearing and approval of the 2020-2024 Five-Year Consolidated Plan, 2020-2021 Annual Action Plan, and Analysis of Impediments to Fair Housing Choice. Every five years, the City of Santa Ana must submit its Five-Year Consolidated Plan to the Department of Housing and Urban Development (HUD) to show how it will use federal funding for affordable and supportive housing, community development programs, public services and economic opportunities for the community.
• Councilmembers Phil Bacerra and David Penaloza are asking the Council to discuss creating a policy for abstentions on votes on Council agenda items.
• Councilmember Jose Solorio is asking the Council to discuss amending the housing opportunity ordinance to make it apply citywide, include focus on financing affordable for-sale housing units, rehabilitate substandard rental housing, provide funding for rental assistance programs and make other updates to incentivize the development of affordable housing and local hire programs.
• Councilmember Vicente Sarmiento is asking the Council to request a report on citywide WiFi/internet availability and service provider programs available for disadvantaged families that lack internet access.
• Councilmember Cecilia Iglesias is asking the Council to discuss utilizing the City's digital boards to send congratulatory messaging to 2020 high school graduates in Santa Ana.
For the full meeting agenda, go to www.santa-ana.org/city-meetings.
To provide a comment on public hearings and non-agenda items, the public can call in by phone during the meeting. Go to www.santa-ana.org/cc/city-meetings/virtual-meetings for details on how to call in.
To provide comment on agenda items, submit your comments via email to ecomment@santa-ana.org by 5 p.m. today.
Make sure to include your name, the agenda item number, and indicate whether you are in support of or in opposition to the item and why.
Comments received by 5 p.m. will be distributed to the legislative body prior to the start of the meeting and will also be posted on our website for public review. The Clerk will provide a summary report of the comments received on each item.
Comments received after 5 p.m. will be posted on the City's website at the earliest possible opportunity after the meeting.
If you have any questions, please contact the Clerk of the Council office at (714) 647-6520.