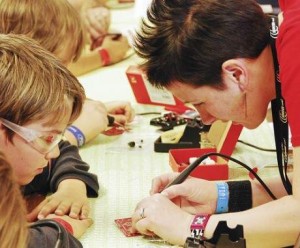 COMMUNITY COLLEGE TRUSTEE JOSE SOLORIO ENCOURAGES FAMILIES TO TAKE ADVANTAGE OF NEW SUMMER ADVENTURES
ORANGE COUNTY – With schools just out of session, Community College Trustee Jose Solorio would like to bring to light a variety of fun summer activities for kids and their families to enjoy, many of which are free!
Orange County is home to a diverse number of local attractions and activities, and summer presents a great opportunity for families to explore new adventures. These activities include free movie screenings and concerts, arts and crafts exhibits, campouts, sport activities, and festivals held by different cities, libraries, local organizations and businesses. Current economic factors are still leading many families to look for free or low-cost activities to take part in, and fortunately there are many opportunities in our county that are affordable.
"Our cities are blossoming with exciting activities and events, and summer is a great time for families to explore what their communities have to offer while doing it in a fun and affordable way," Solorio says.
Click here for a list of events taking place throughout the summer in central Orange County for your family to take part in. Many of these events were retrieved from planadayout.com, which features summer activities for families.
Community College Trustee Jose Solorio is Vice President of the Rancho Santiago Community College District Board of Trustees. The Board oversees Santa Ana College and Santiago Canyon College, and represents 700,000 residents in the cities of Anaheim, Garden Grove, Irvine, Orange, Santa Ana, Tustin, and Villa Park. For more information about Community College Trustee Solorio, please visit www.solorio4california.com, or find him on Facebook and Twitter.
###