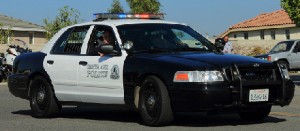 A 40-something man was shot in the chest during an attempted robbery in Santa Ana Monday night, at Memorial Park,  in the 2100 block of Flower Street, according to CBS News.
Two male suspects, described as "gang member types" and believed to be in their late teens or early 20's, wearing black clothing, approached two male residents in their 30s or 40s in Memorial Park Monday night. The suspect are believed to have been trying to rob the victims, police said, according to ABC News.
During the fight, at least one person fired a handgun, striking a man in the upper body, at which point the two males in black fled on foot, Santa Ana police Cmdr. Pete Semelsberger told the O.C. Register, which also reported that "The second of the older men remained at the scene and was being interviewed by investigators."
The victim who was wounded was taken to a local hospital for treatment.
The SAPD is asking anyone with information about this crime to call 855-TIP-OCCS.