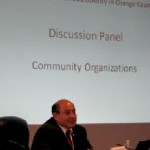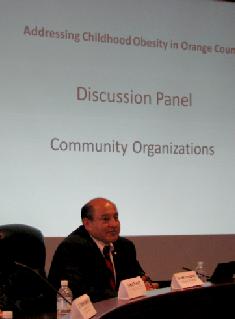 (PHOTO FROM FILE): State Senator Lou Correa speaking at the "Addressing Childhood Obesity in Orange County" town hall meeting he organized in 2009.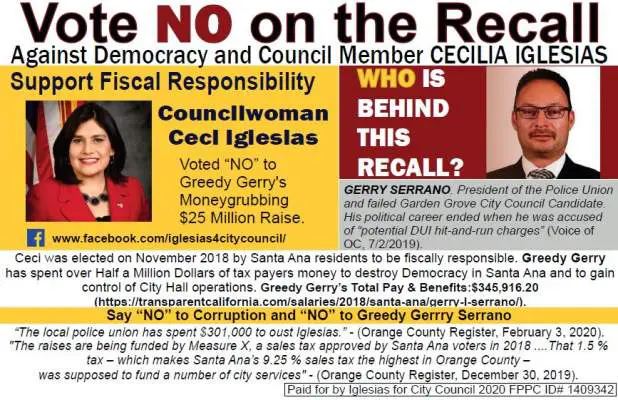 NEWS RELEASE
Isn't it time for Santa Ana to have a voice on the O.C. Board of Supervisors?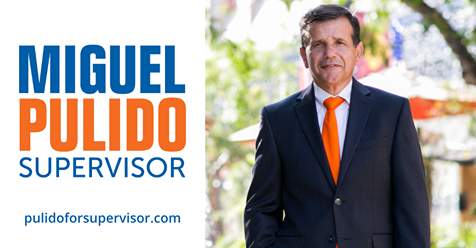 Paid for by Miguel A. Pulido for Supervisor 2020 (ID #1422663)
Senator Lou Correa,­­­­­­­­­­­­­­ 34th Senate District
For Immediate Release: May 28, 2010
Contact: Lina Hamilton, (916) 651-4034
Advertisement
Is your employer a mess? Call Sasooness.
In the state of California for every 5 hours worked an employee must get a 30 minute, uninterrupted lunch break. For every 3 hours worked an employee must get an uninterrupted 10-minute rest break. Working over 8 hours in a day or 40 hours in a week is due overtime. Don't let your employer screw you! Give us a call at 323 746-8099.
En el estado de California por cada 5 horas de trabajo su patrón le debe permitir tener un receso de media hora sin interrupciones. Si trabaja más de 8 horas en un día o más de 40 horas de trabajo en una semana su patrón le debe pagar tiempo y medio. No deje que su patrón abuse de su trabajo. No importa que no tenga papeles. Usted tiene derechos. Llamenos al 323 746-8099.
Correa's Measure, Establishing Childhood Obesity Prevention and Fitness Week, Gains Passage from State Senate
Childhood Obesity has reached epidemic proportions in the U.S.
SACRAMENTO, CA – Today, the State Senate approved Senate Joint Resolution 77 (SJR 77), introduced by Senator Lou Correa (Orange County). This legislative measure will proclaim the last full week in September in each year as Childhood Obesity Prevention and Fitness Week.
According to the U.S. Center for Disease Control and Prevention (CDC), "the American society has become 'obesogenic,' characterized by environments that promote increased food intake, nonhealthful foods, and physical inactivity." From1980 and 2002, the prevalence of childhood obesity in the US has tripled in children and adolescents ages 6 to 19.
"Childhood obesity has become a national epidemic. As a community, we need to stand together to overcome this epidemic. We need to fight like if the lives of our children are at risk, because they are," said Senator Lou Correa. "Overweight children are more likely to be obese as adults, putting them at a much higher risk for heart disease, cancer, stroke, and other disabilities later in life. Childhood obesity also contributes to low self-esteem, depressive symptoms, loneliness, anxiety, poor judgment, and disruptive disorders".
The 2007 National Survey of Children's Health shows that in California, 30 percent of children age 10 to 17 were considered overweight or obese. Overweight, obesity and physical inactivity are estimated to cost California tens of billions of dollars for medical care, worker's compensation and lost productivity.
SCR 77 would also express the Legislature's support of various programs that focus to reduce obesity and increase exercise among children, work to educate children about healthy eating habits, and work to remove barriers that contribute to sedentary lifestyles and unhealthy eating habits. This Resolution is sponsored by St. Joseph Health System and supported by California Association for Health, Physical Education, Recreation & Dance, the California Academy of Physician Assistants, California WIC Association, and the California State Parent-Teacher Association.
SCR 77 will be considered in the Assembly within the next few weeks.
Senator Lou Correa represents the 34th District, which includes the cities of Anaheim, Buena Park, Fullerton, Garden Grove, Santa Ana, Stanton and Westminster. ####
Lina Hamilton
Legislative Aide
Office of Senator Lou Correa, 34th District
(916) 651-4034
lina.hamilton@sen.ca.gov