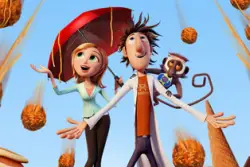 FOR IMMEDIATE RELEASE: May 28, 2010
CONTACT: JENN STARNES, 949-724-6574

Start Your Memorial Day Weekend at the Great Park
Summer Movie on the Lawn: The Fun-Filled Forecast is "Cloudy with a Chance of Meatballs"
IRVINE– No umbrellas needed at the Great Park Summer Movie on the Lawn this weekend, where it will be "Cloudy with a Chance of Meatballs" (rated PG). The second show in the summer Movie on the Lawn series is this Saturday May 29th at 8:00 p.m.
Follow inventor Flint Lockwood and brainy weathergirl Sam Sparks as they attempt to discover why the rain in their small town has stopped while food is falling in its place. Bring your blanket and beach chair to watch the big screen adaptation of this children's classic unfold on the giant outdoor screen.
"Cloudy with a Chance of Meatballs," stars the voices of James Caan, Benjamin Bratt, Al Rcker and Neil Patrick Harris. Admission and parking are free. Warm clothing is recommended, and visitors are welcome to bring picnics and movie snacks.
Great Park fun for the holiday weekend starts early Saturday morning with the Great Park in Motion morning exercise series, where you can get up and get moving with a Real Fitness Bootcamp, Tai Chi and Yoga classes starting at 8:30 a.m. For more information, please visit www.ocgp.org.
###