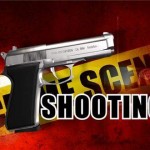 On Fiestas Patrias weekend, SAPD police officers responded to the gang-related shooting of a 15-year old male victim, last night at about 8:30 p.m., at the 700 block of West Third Street, in Santa Ana, according to SAPD Case #16-24027.
SAPD police investigators found several casings and unfinished graffiti in the area. The victim was transported to OC Global for emergency treatment for his injuries.
This shooting happened less than a mile from the SAPD's police headquarters at the Civic Center, in Santa Ana's Ward 2, which is represented by Council Member Michele Martinez.