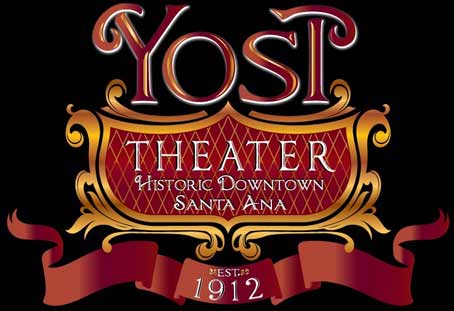 It has been a long, expensive road, but Dennis Lluy is set to open the newly renovated Yost Theater in April of this year, according to his website.  The Chase family, who own the Yost, are adding a restaurant and bar service to the historic venue, under Lluy's direction.
One would think this would be a proud moment for the City of Santa Ana, but Anaheim blogger Gabriel San Roman wrote yet another post about the Yost, over at the OC Weekly this time, questioning Lluy's motives.
Did the City of Santa Ana rip off the original owners of the Yost, the Olivos family, when they were compelled to sell the Yost, back in 1985, as they could not afford the renovations that City officials deemed necessary?  Yes, it would appear so.  However, that cannot be reversed.  Isn't it time to move on?
San Roman appears to be upset that the Yost was not turned into a "community space," but why should it be?  It is a business.  The owner, Irv Chase, has invested a substantial amount of money into this new renovation.  He has a right to turn a profit, doesn't he?
Does the Yost have a long, colorful history?  Yes it does.  The good news is that it is still standing and now will be better than ever.  Isn't that a good thing?
Is San Roman upset because this looks like, gasp, gentrification?  So what?  The Fiesta Marketplace is slowly dying.  The new Yost will bring new customers to the area.  How is that a bad thing?  It is up to the remaining Fiesta Marketplace businesses to find a way to make themselves relevant – and profitable.
The good news is that if San Roman and his buddies want to use the Yost, they can rent it.  The Yost Theatre is available for concert/show rentals, special events and location shoots.  Click here to inquire.  You can also call the Yost's booking line at 714-997-1380.
Features of the new Yost:
Concert Quality Sound System
Lighting System
VIP Lounge
Valet and Self Parking
Event Management
Full Security
A Grand Marquee
The Yost is located at 307 N. Spurgeon St., in Downtown Santa Ana.
I say, let's give Lluy and the new Yost a chance.  I don't know how Lluy suddenly turned into the bad guy.  He is a great guy and I know he will book a great variety of talent at the Yost.  It is good to have Koos back in town!