Santa Ana police Wednesday were investigating whether there was a connection in the disappearances of four women since mid-October, according to the Los Angeles Daily News.  We have previously reported about two of these missing women here.
At this point, the only commonality in the disappearances is that the women – Martha Anaya, 28; Kianna Rae Jackson, 20; Josephine Monique Vargas, 34; and Andrea Nichole Palma, 29 – frequented a neighborhood along a half-mile stretch of First Street between Grand Avenue and the 55 freeway, Santa Ana police Cpl. Anthony Bertagna said Friday, according to the O.C. Register.
Imagine if four white women had disappeared from Santa Ana's wealthy Floral Park Neighborhood?  There would have been an instant uproar.  Instead these women have been mostly ignored by the media and the local police until just recently.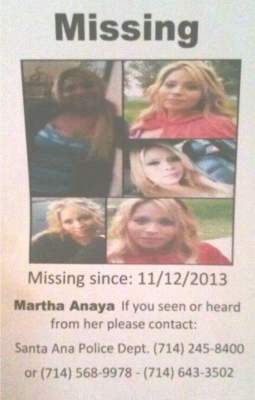 Kianna Jackson, 20, was the first to disappear on Oct. 15. Two weeks later, Josephine Vargas, 34, vanished. On Nov. 12, Martha Anaya, 28, disappeared. Lastly, Andrea Nichole Palma vanished on Nov. 23. Missing-person reports were filed by family members of the women, according to ABC News.
ABC News also reported that "Family members fear that the women may have been kidnapped for human trafficking. They say other women in the area have told them that several suspects have tried to grab them."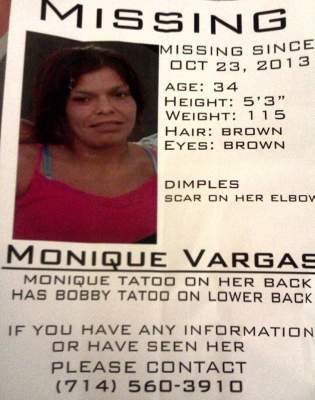 We have seen this before, on a much larger and more violent scale, in our neighbor to the south.
The phenomenon of the female homicides in Ciudad Juárez, called in Spanish feminicidio ("femicide") involves the violent deaths of hundreds of women and girls since 1993 in the northern Mexican region of Ciudad Juárez, Chihuahua, a border city across the Rio Grande from the U.S. city of El Paso, Texas. The number of murdered women in Ciudad Juarez since 1993 is estimated to be more than 370.[1][when?] A government committee found a similar array of causes for the earlier wave of killings. After surveying 155 killings out of 340 documented between 1993 and 2003, the committee found that roughly half were prompted by motives like domestic violence, robbery and gang wars, while a little more than a third involved sexual assault, according to Wikipedia.
Domestic violence is a real problem here in Santa Ana too but the missing women don't appear to have been victimized by members of their own family.  Is someone stalking the women in our city and if so why hasn't our City Council and our Police Department made a bigger deal of this?
The remains of another Latina were also found recently on the 5 Freeway, which we reported here.  That case is still under investigation.
And a young woman was recently attacked, robbed and raped at the MainPlace Mall, which we reported here.  Her assailant was caught.  But is someone else running around our city, stalking and taking women from our poorest communities?
It just doesn't feel like the local authorities are doing enough to get to the bottom of this.
If you would like to submit a crime tip anonymously online, click here or call the Orange County Crime Stoppers at (855) 847-6227.