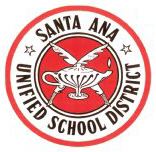 All the politicians in Santa Ana swear that education is a top issue for them, from State Senator Lou Correa, to U.S. Rep. Loretta Sanchez and Assemblyman Jose Solorio.  However there are NO candidates' debates scheduled this year for the Santa Ana Unified School District and Rancho Santiago Community College District races.  I find this incredible but this is not the first time this has happened.  Two years ago there were also no SAUSD School Board candidates debates or forums.
This was not the case back in the day, when at least the PTA would get involved.  But now our voters have no such opportunity to see the school board candidates in action.  This is deplorable! 
Other communities, such as Irvine, do host school board candidates' forums, but here in Santa Ana this simply doesn't happen.
At the very least I would like to see Senator Lou Correa host candidates forums for both the SAUSD and the RSCCD candidates in the RSCCD board room.
You can email the various administrators at the SAUSD about this here.