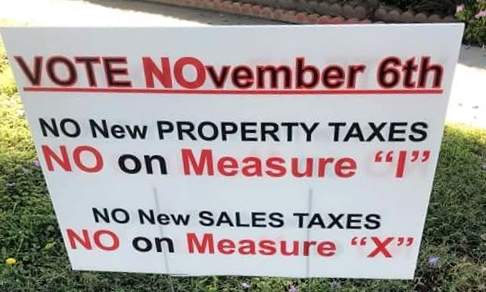 If you see a meth addict begging for money outside a McDonald's and you give him twenty bucks chances are that he will buy one item off the restaurant's dollar menu and spend the rest of the money on drugs. Local governments act the very same way. No matter how much tax money they take from us they always find a way to blow most of it and then come back to us for more money.
That is precisely what is happening in Santa Ana right now. The Santa Ana Unified School District has already begged us for millions twice before with two previous bond measures. Now they are back with their hat in hand begging for millions more – even though other area school districts are finding ways to improve their facilities without passing bond measures.
The downside of bond measures is that school districts have to pay back in interest the exact amount that they borrow. Would you ever borrow a thousand dollars if you knew you had to pay back a thousand dollars in interest – plus the thousand dollars? Of course not, but school districts do this all the time because it is not their money.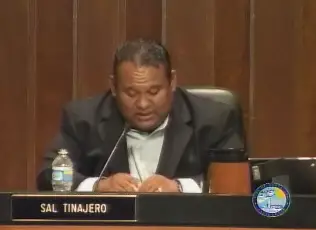 Longtime Santa Ana City Councilman Sal Tinajero has been on the City Council for many, many years. In that time he has led the City Council majority as they have practically bankrupted our city. So how is he proposing to fix the mess he caused? By raising taxes of course! And he is running for Mayor so he can finish wrecking our city.
Tinajero is the main force behind a proposed Santa Ana sales tax increase. He was also the guy who hired and way overpaid two City Managers in a row who were not the most qualified candidates for that position but were hired because they were Latinos. And it was Tinajero who fooled the voters into giving the City Council a huge raise a couple years ago which backfired when the now higher paid City Council Members proceeded to drive our city into financial ruin. It was also Tinajero who engineered huge raises for our city executives, of course. Now he expects us to clean up his mess with higher sales taxes – that will hurt Santa Ana businesses? Does he think we're nuts?
It's not like Tinajero will feel the pinch of higher taxes. Check out how much he makes:
Tinajero's annual total pay and benefits was at $153,331.00 when he taught at a Fullerton public school, according to Transparent CA. He now works at the SAUSD and presumably makes even more than that.
Tinajero's annual pay and benefits as a part-time Santa Ana City Councilmember start at $13,400.88, according to Transparent CA but you have to add to that how much he makes as a member of various municipal boards. He also gets a huge car allowance. And figure in a pension and lifetime health benefits too!
So Tinajero makes at least $167,000 a year. Did you know that the median household income in Santa Ana is $54,062 according to the U.S. Census? TInajero makes three times that! So of course he is happy to raise our taxes. It won't hurt him. However higher taxes do hurt a lot of folks in our city, including:
Senior citizens on fixed incomes
Single-parent households
Households that have a lot of kids
Households dealing with major illnesses
Perhaps Tinajero figures he can get elected without the votes of the folks he is hurting by raising our taxes?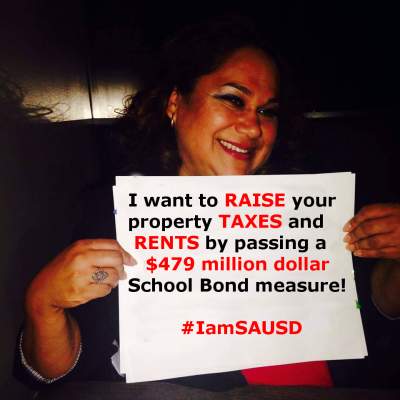 Meanwhile Tinajero's allies on the SAUSD School Board, John Palacio and Valerie Amezcua, passed a PLA that is attached to their new bond measure. What the PLA will do is limit bidding on bond-funded school projects to union contractors only even though the great majority of Santa Ana residents do not work for unions. And consider that all contractors who work on public jobs, union or non-union, have to pay the workers the same rate of pay. So the PLA is unwarranted. But guess what? You can expect the union trades to contribute handsomely to Palacio and Amezcua's campaign funds this year. This is quid pro quo at its worst!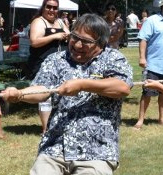 By the way, Palacio and Amezcua are unlikely to feel the higher taxes as they too rake in quite a bit of income. Palacio is some kind of consultant, and good luck trying to track down that income. He hides his personal details from the public and he does not use social media. But we do know that he makes $25,090.75 a year as an SAUSD School Board Member, according to Transparent CA – and that includes a pension and lifetime health benefits. He has served already for 20 years and is running again in November. A recent survey by the Center for Congressional and Presidential Studies (CCPS) at American University found that roughly 50 percent of those working in political consulting made at least $100,000, according to CNN. So it is likely that Palacio makes at least 2 to 3 times what the average Santa Ana household draws in annually.
As for Amezcua, she retired as an O.C. Probation officer last year. At the time she was making $139,690.52 a year in total pay and benefits, according to Transparent CA. As a public employee she is likely still drawing that much annually as a pension and she also makes $20,566.17 a year on the SAUSD School Board, according to Transparent CA. She too is running for the SAUSD School Board again in November. That job will net her another pension when she retires from the School Board. As there is no term limit on the School Board she might keep running as long as Palacio.
Santa Ana's local politicians make 2 to 3 times as much as most Santa Ana families. They don't feel the pinch when they keep raising our taxes. But many of us do. Please keep that in mind this November and vote no on all new Santa Ana taxes. Click here for more info about the local tax measures.