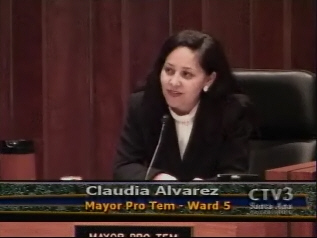 I am hearing from several sources that Santa Ana Mayor Miguel Pulido is quite serious about defending himself as he is investigated for various issues stemming from campaign finances and real estate shenanigans.  He is telling friends that his priority is his legal defense – so what if he ends up retiring from politics and not running again in November?  Who will run?
First term Santa Ana Councilman Roman Reyna is in but no one is taking him very seriously.  If Pulido pulls out you can expect much bigger names to jump in.
I am told that former Santa Ana Mayor Pro Tem Claudia Alvarez, an Assistant Orange County District Attorney who currently serves on the Rancho Santiago Community College District's Board of Trustees, is already planning to run.
What about State Senator Lou Correa, who is termed out this year and is not running yet for any other office?  He lives in Santa Ana.  He could run for Mayor and then get back onto the Orange County Board of Supervisors when Janet Nguyen terms out in two years.
If enough Latinos run perhaps a few non-Latinos might run such as former Santa Ana Councilman Brett Franklin.  He would win with a Latino vote split.
What about our Vietnamese community? Would Santa Ana Parks and Rec Commissioner Ken Nguyen jump in?
This could be the hottest race in Orange County come this November…