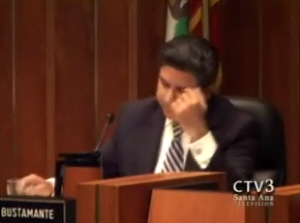 UPDATE: Bustamante has resigned from his job at the County of Orange.  It is only a matter of time now before he is pressured off the Santa Ana City Council.  It is time to speculate as to who might replace him on the City Council when that happens…
I am hearing that beleaguered Republican Carlos Bustamante, who has been "put on paid administrative leave (from his job at the County of Orange) following anonymous allegations of a sexual nature," according to ABC News, may dig in his heels and refuse to quit the Santa Ana City Council, which is meeting this Monday night.
Bustamante would be well-advised to leave the City Council.  He needs to focus on trying to save his job at the County, which pays him over $170,000 a year – and on saving his family.  He ought to just quit tomorrow before the City Council meeting, to save him what will surely be an embarrassing night.
You may recall that Bustamante, and his ally Councilman David Benavides, tried to lynch Santa Ana Mayor Pro Tem Claudia Alvarez, at the last City Council meeting, even though she had already apologized for comments comparing Santa Ana developer/property owner Irv Chase's tactics to that of the Nazis.  Does anyone think that Alvarez will not be prepared to finish off Bustamante on Monday night?  I doubt even Benavides will be interested in defending Bustamante.
So who will ultimately replace Bustamante, once he finally leaves?  The first place to look for a replacement is usually the Planning Commission – and get this, no less than six of the Planning Commissioners live in Ward 3, which is represented by Bustamante.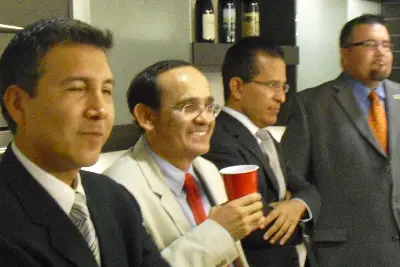 Eric M. Alderete is on the right, standing to the left of fellow Planning Commissioner Sean Mill.  Picture Copyright © New Santa Ana, taken  on Election Night, last November.
Let's take a look at these possible Bustamante replacement candidates:
Eric M. Alderete, Esq. – vice president and senior corporate counsel at U.S. Bank National Association, has been named to the Santa Ana College Foundation Board of Directors. He also serves as chair of the City of Santa Ana Planning Commission, according to OC Metro – which included him on their "Movers & Shakers" list last year.  He was appointed to the Planning Commission by Councilman Vincent Sarmiento.
James R. Gartner – He is the Vice Chair of the Planning Commission, and he owns a business.  He was appointed to the Commision by Bustamante, so I doubt he will be looking to replace him.
Alexander "Sandy" Nalle – He actually ran against Bustamante back in 2004.  He had the support of Mayor Miguel Pulido – and in hindsight we would have been better off if Nalle had won.  Nalle works in real estate.  Click here to read his bio.  Nalle got over 18,000 votes, according to Smart Voter.  As such he deserves consideration as a replacement for Bustamante.
Mario Turner – He was appointed by Benavides.  I served with Turner on the Santa Ana Housing and Redevelopment Commission – and he lives in my neighborhood, Park Santiago.  Great guy – and smart as a whip, but he has two young boys and I doubt he would be interested in replacing Bustamante.
Patrick D. Yrarrazaval – He is Councilwoman Michele' Martinez' appointment to the Planning Commission.  He took over as the new Principal at Valley High School this year.  A career public school administrator, I doubt he would be interested in taking over for Bustamante.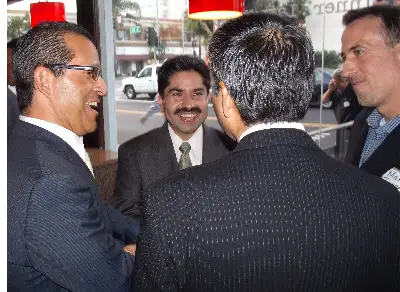 Pictured (from Left to Right): Eric Alderete, Jose Solorio, Vince Sarmiento and Mario Turner
I supposed there might be other candidates, but we need someone who can hit the ground running.  The City of Santa Ana is dealing with a gigantic budget deficit.  Whoever takes over for Bustamante, hopefully next week, will have to roll up their sleeves and get to work right away.