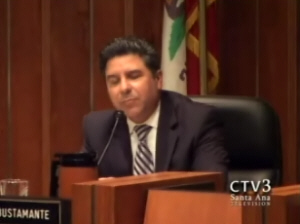 "County executive manager Carlos Bustamante, the target of an internal investigation into accusations that he had sexual encounters with his employees, resigned from his ($178,000) job Tuesday afternoon," according to the O.C. Register.
The Register article hinted that others in Bustamante's department might still be on the hot seat, which makes sense given California's tough anti-harassment laws.  If it can be proven that Bustamante's superiors covered up for his alleged behavior, or looked the other way, more heads will surely roll.
Will Bustamante resign from the Santa Ana City Council?  He must.
By resigning from his County job Bustamante is essentially admitting guilt, isn't he?  The City of Santa Ana's Code of Ethics demands that our officials act with integrity – and that they obey all our laws.  Check out the Code's preamble:
The people of Santa Ana expect public officials, both elected and appointed, to comply with both the letter and the spirit of the laws of the State of California, the United States of America, and the Charter, Municipal Code, and established policies of the City of Santa Ana affecting the operations of local government. In addition, public officials are expected to comply with the provisions of this Code of Ethics and Conduct established pursuant to the expressed will of the people. All persons covered by this code will aspire to meet the highest ethical standards in the conduct of their responsibility as an elected or appointed official of the City of Santa Ana.
Harassment in the workplace is illegal in the U.S. and particularly in California.  I have not yet read Bustamante's letter of resignation, but the fact that he resigned is immutable.  It is time for him to now walk away from the City Council.
And there are other good reasons for him to leave.  For one thing, he can now be compromised – blackmailed.  We can't have a City Councilman who is in such a position.  For another, our city is broke.  Our elected officials need to focus on our budget, not on distractions.  And finally, Bustamante must resign out of respect for the women who work for and live in our city.  His continued presence at City Hall is an insult to them all.
Walk away Carlos.  Move to DC and see if you can get a job as a Republican hack.  Your time in Santa Ana and in Orange County is over.  Adios and good riddance!  And shame on those faux liberal bloggers who have been defending this guy…
Click here to read about the candidates to replace Bustamante on the Santa Ana City Council.